The VR transformation of all spheres of life is no longer just a hypothesis. The sport wasn't the first domain for virtual reality expansion. At the same time, VR sport has been changed significantly even at grass-roots level.
View VR sport games
The NBA started broadcasting full season in virtual reality on Samsung Gear VR and Google Daydream from the season 2017-2018. It sounds like a breakthrough, doesn't it?
Nevertheless, the owners of HMDs are already ready for such VR sport games. And their number frequency of occurrence, where VR is available as a medium, confirms this.
August 2016 – Rio 2016 Summer Games Olympics
Samsung teamed up with NBC to bring a brand-new technology of virtual reality into the sports media space. So, owners of the Samsung Gear VR could watch all the Olympic events, including the opening ceremony. Any event could only be viewed the next day after it was held. Despite that fact, this was impossible 4 years before.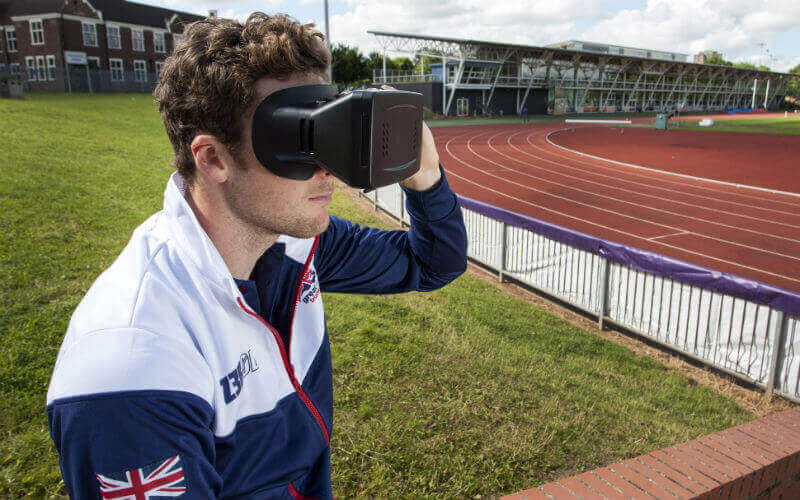 The Golden State Warriors, GSW Arena LLC, and Accenture announced a multi-year partnership in the end of 2016. In January, spectators could see some games of NBA in virtual reality. Perhaps, this is the only medium that allows you to feel like VIP with premium seats.
While other sports are only taking their first steps in virtual reality, NBA started the season, in which all games would be broadcasted in VR.
Viewing is available on Google Daydream or Samsung Gear VR. Soon Windows Mixed Reality will also support NextVR. In so-called Screening Room, it's possible to choose any game of the season you want.
League Pass subscription costs $200, and you can pay $7 for the game you wish to stream.
Major League Baseball (MLB) in partnership with Intel True VR began free live streaming one MLB game every Tuesday. It seems that baseball will become the second kind of sport after basketball where all season games will be shown in virtual reality.
"Our partnership with Intel will keep MLB at the forefront of technological innovation for our fans, bringing them closer to the action."
Kenny Gersh, EVP, Business, MLBAM
The Intel True VR Game allows experiencers to change their vantage-ground choosing from up to four 4K-resolution camera angles per game. In addition, baseball fans have access to the statistics about the current player and his team. Also, the VR for sports broadcasting is accompanied by exclusive comments.
Fans will also have access to up-to-the-moment player and team statistics, including pitcher and batter data, and will hear the exclusive in-app commentary. There will also be post-game highlights and on-demand replays of each game. In addition, the spectator can request a game repeat, as well as the review of the best moments of the game after its completion.
This summer X Games has got involved to VR streaming through Samsung Gear VR. Skateboard Vert, BMX Street, Skateboard Street Amateurs are 3 events as part of X Games. They were broadcasted in 360-degree VR video. VR extreme sport games were among the first that were supposed to support VR technology.
"We are always pushing to create new and better ways for fans to experience and interact with X Games."
Tim Reed, vice president of ESPN X Games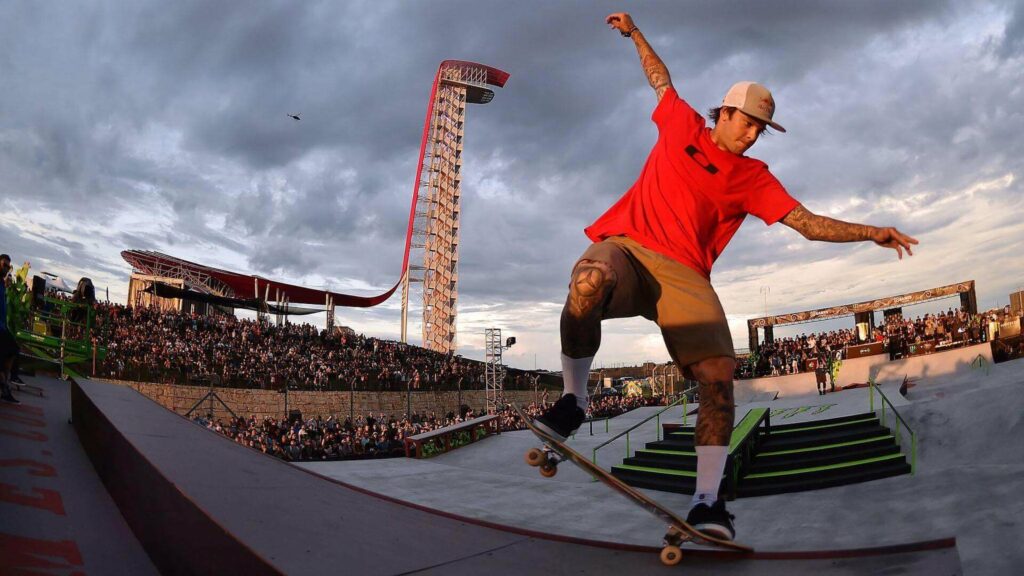 According to Fortune, Intel has installed 38 high-tech cameras and processing power in 11 National Football League stadiums. This technology is called FreeD. A large number of cameras allows transferring the course of the virtual sports VR game from a variety of angles.
"The goal is to eventually supplant the traditional broadcast experience, based on six static cameras, with a fully immersive, real-time VR viewing experience that could put fans right in the middle of the play."
Preston Phillips, director business development director in Intel Sports Group
However, this is only a small part of iconic sports and events that have injected virtual reality as a medium to broadcast sport events.
Restrictions of VR live sport games broadcasting
360° view not always available
One the most attractive features of VR as a medium is 360° view of the environment. Many sporting productions don't give such an opportunity. We cannot see what's behind us. On the one hand, it's reasonable — the audience should concentrate on the course of the game. On the other hand, the experiencer wants to watch all that surrounds him. Otherwise, there is a feeling that you are alone in the stadium, which in general is strange.
Сurrently the content producers are focused on single-user experience. But over time, Intel projects VR live sports experience at the heart of it all, including a team or a player game and a crowd of fans. As Intel informs, it may take "at least two years, if not more".
Possible inappropriate camera location
Another possible drawback of VR broadcasting from VR sports games is not quite convenient placement of cameras. As a result at the moment when an unwanted object or people such as coach, judge or benchwarmers enter the field of view of the camera, the review becomes limited. Additionally, VR cameras are placed close to the floor which also creates some discomfort.
Now 10-to-15-second replays can be reproduced in less than 60 seconds. That is, technicians together with broadcasters pick the moments to place emphasis. Thus, high points are now created at the stadiums and playgrounds.
The challenge is to fulfill processing in the cloud. It means the possibility to process VR sports videos from numerous places. According to Intel CEO, it will be possible in as little as 2 years.
"By 2019, you'll be able to don on your VR headset and go anywhere on the field… and watch the game with maybe a two-second delay."
Brian Krzanich, Intel CEO
Unquestionably, it will take a little time before virtual reality become a mass media even in the sports events. One thing is clear, this is not just entertainment, especially for the sports industry, broadcasters and VR technology companies.
VR sport watch parties
Watching football in a good company of friends, and just like-minded people, where it is more interesting and pleasant than in proud solitude. Therefore, football fans often gather at home or in sports bars with huge screens to share all the sorrows and joys of the game. A virtual alternative to the real parties of joint viewing of matches appeared. The virtual reality platforms like LiveLike VR, FOX Sports VR app, Beyond Sport VR, Virtually Live allow sports fans to watch the match remotely with friends in a virtual stadium.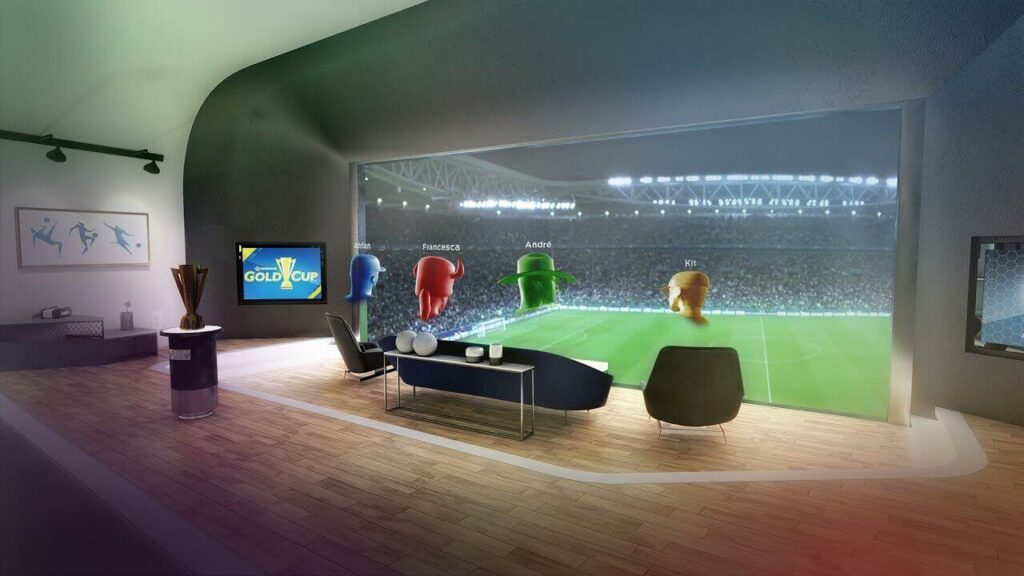 To run the program you will need to download the application and create a customized stadium. Then select an avatar and invite friends to join the match in their virtual stadium. Putting on the headset, users are able to communicate, view statistics, repeat the most vivid moments of the match and choose different angles of the stadium.
One of the latest renewals is the opportunity to invite your friends to the virtual stadium directly through Facebook.To do this, it is sufficient to install wide-angle lenses on existing cameras and direct the stream of broadcasting through a virtual server provided by the platform.
With the help of the latest technologies, VR companies offer a complete immersion into the virtual world and the feeling of a real game in the stadium from your own room. And integration with social networks makes this system more full-scale.
Many people say that technology is increasingly replacing real communication and disconnecting people. As you can see, many virtual reality developers have also envisaged this.
Viewing the action from the player's perspective
Firstly such an opportunity was proposed by FirstV1sion at the beginning of 2015. The company provided the athletes with smart wearables with embedded HD camera, microphone, and sensors that monitor health indicators. The spectators of Euroleague basketball match and some other sports could see player perspective video feeds.
The next step of viewing the action from the player's perspective is the using of VR. One of the first instances is the partnership of NRL with Samsung Australia. They launched State of Origin, VR-enabled experience. Fans can feel what it's like to be a sports star via HMD with 360-degrees from the player's standpoint.
"I've never experienced anything like it and it's good for the NRL to be pioneering this kind of technology."
NRL ambassador and former Origin player, Matt King
One more company that began experimenting with virtual reality experiences as the content for fans is EON Sports VR baseball. It made behind-the-scenes content, highlights, and interviews of Miami Hurricanes available for fans.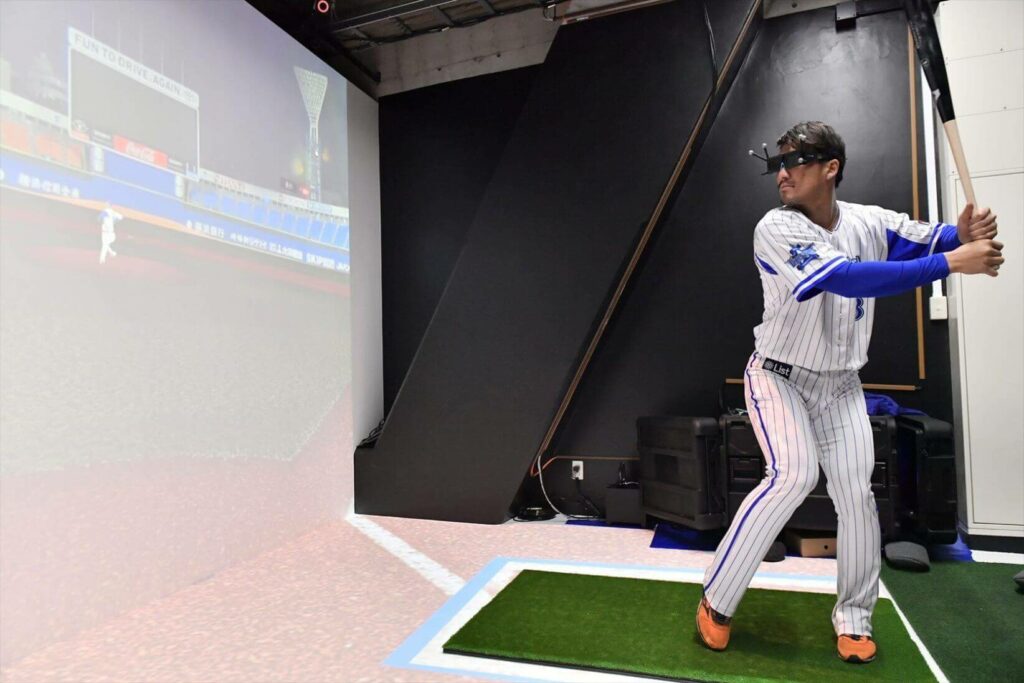 Oculus even created the single user game "VR Sports Challenge" where the participant can experience all the epic moments of hockey and basketball. You can also discover how VR changed the game industry and what expect of its future.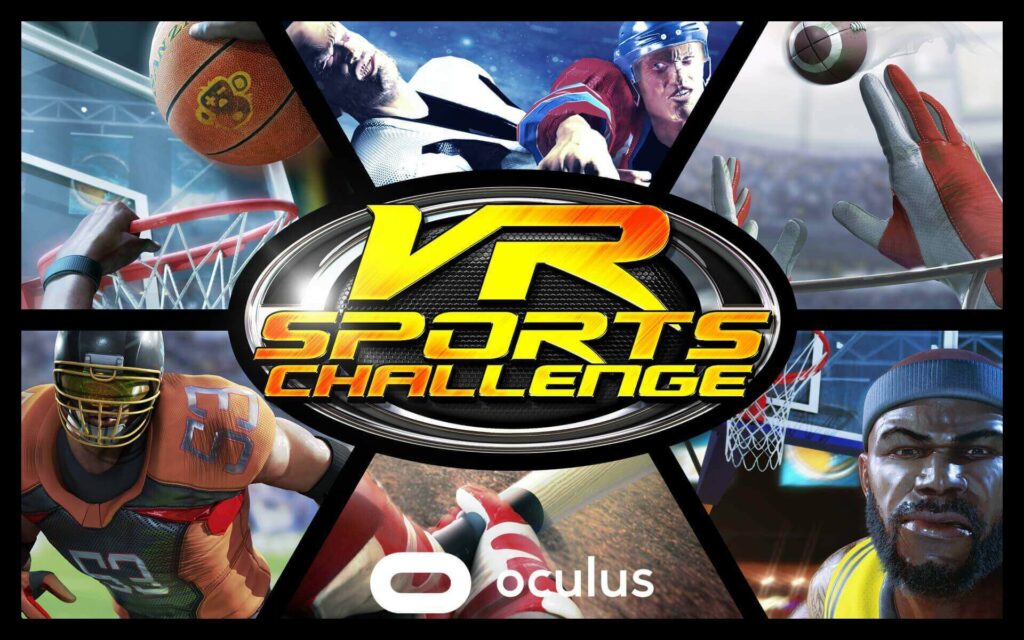 Recreating the action in VR sport
At the moment the most common version of players' movements recreating in VR sport is recording from a large number of high-resolution cameras and stitching these data into 3D video.
This method hides away the main restriction of video broadcasting in VR sport.
While the 360-degree video stream allows to move your head and look around, your view remains rooted in one place. If being a maximalist, then this is not yet a pure virtual reality, what it could be.
At the same time, a somewhat different way of movements' recreation is positional tracking. It is more accurate to transfer the player's movements.
Positional tracking is one of VR technologies, which is the basis of human interaction with the virtual world. It is used to determine the position and orientation of a real object (for example, a hand or a head) in a virtual environment with the help of several degrees of freedom. As a rule, three coordinates of its location (x, y, z) and three angles that determine its orientation in space (roll, pitch, and yaw). The position and orientation of a real object in space are determined by means of special sensors and markers. Sensors read the signal from the real object when it moves and transmit the received information to the computer.
This is quite an expensive thing, in respect that one camera can cover about 6 square meters. So, if the playground is big, it will run into a pretty penny. One of the examples of such systems is OptiTrack.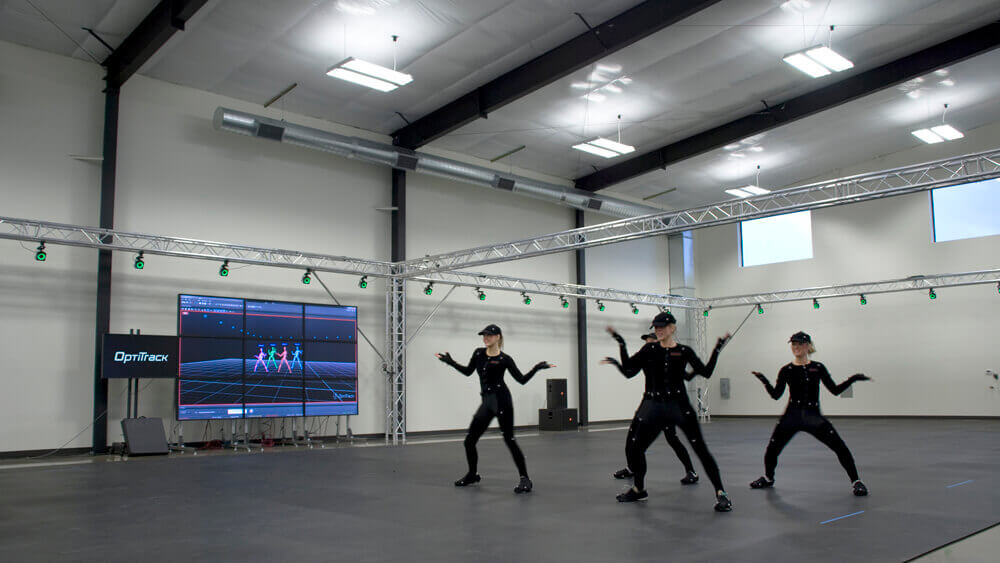 No system can be considered a fully-featured VR system unless it knows the position and orientation of the user and his actions at each moment. Tracking organizes the transfer of this information to the "brain" of the system. Tracking is the eyes, ears, touch, and smell of the BP system.
Electromagnetic, ultrasonic, inertial and optical systems are used to implement tracking in VR. You can find out more about them in the article "Motion сapture: what is it?".
Let's look how tracking works at an example of Virtually Live. As CEO of Virtually Live, Tom Impallomeni narrates, motor racing takes time positional data stream. That's why telemetry from cars is used by the company. More than one hundred and fifty measurements are tracked by the telemetry in real time. Virtually Live reconstructs the race in real time and then combine it with the broadcast.
For soccer, for example, a different tracking type is used. It's optical tracking. Numerous cameras track 3D positional data. Such a method bring us closer to pick up skeletal movements.
One more way to reach accurate recreating body movements is wearable technology. RFID (radio frequency identification), GPS trackers or motion sensors are embedded in smart clothing or worn on the body to record and broadcast of human movements.
3D real-time positional tracking data enable the spectators to choose the viewing position they want and watch live VR sports, interacting with friends at the same time.
Beyond Sports VR is another startup that collects player data from football matches to create a 3D game simulation. The company fulfills this combining such technologies as player-tracking data, their own virtual player models, motion capture and AI. Users with VR headphones can freely explore the game anywhere in the stadium, including the prospects of players, fans or officials.
Although the added degree of freedom is welcomed, the fact that it uses computer graphics may not be attractive to most fans.
Nevertheless, the environment can be extremely useful for sports teams that can use it to play and analyze the game from different angles.
What VR gives to manufacturers of sports content and sports clubs?
Increase media outreach
It became unnecessary to be a star to get on the first terracing during the NBA game. It is enough to have a HMD. Perhaps, not only hardcore fans will try to watch sports in VR.
Create and deepen loyalty
According to Intel, only approximately 1% of fans will be able to see their favorite players in person. VR sport gives an opportunity to appear in the thick of playing team's action whether it just trains or plays a crucial game of the season.
Form community
As for sports, this is exactly the option when VR sport can rally people and stimulate them to share their impressions and opinion.
Also, mature community support campaigns of sports clubs and take an active part in advertising games.
VR sport for your personal training
This direction only began to develop and the first famous sportsman who recorded his virtual lessons is a golfer, Rickie Fowler. The sixth-ranked golfer on the PGA Tour was proposed to collaborate with Success Series, fresh VR platform for training everyone who wants to take professional lessons under famous athletes.
Fowler recorded 5 lessons, 3 of which are in VR. They are as an app available for Android from summer, 2017. One lesson costs several dollars and can be viewed from a mobile phone, tablet, or computer. In each video, the athlete reveals his chips which helped him to come to success on a one-on-one basis.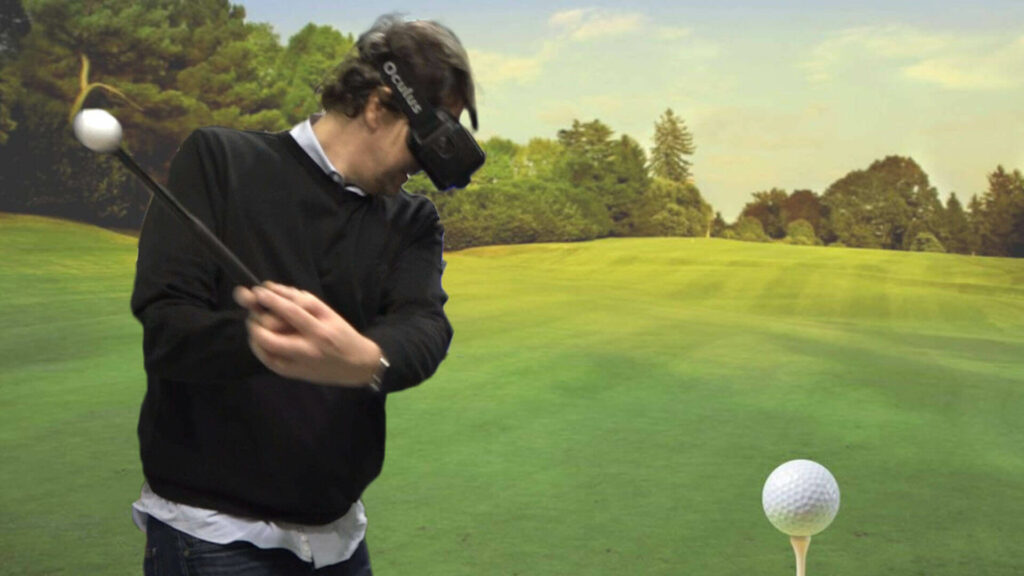 VR in sports training for athletes and teams
Virtual reality has been used as a platform for learning and training in sport for many a year. Its efficiency was proved by hundreds of researches. The first big wave of them was conducted as early as in the 1990s. They are continued to this day, as the technology keeps incessantly evolving.
There are many options for using virtual reality technologies in professional sports.
Analysis of overpast games
After the game, any player can put on the HMD and look again at the important episode from any point, including his own eyes or from the nearest partner's perspective. The image is literally scrolled, you can choose any part of the field. This allows using virtual reality to analyze sports performance, the errors and improve the interaction between the players because an HMD creates an effect of presence on the field.
Creating different game scenarios from scratch
At the request of the coaching staff, a certain situation on the virtual field is simulated to analyze the playing behavior. He must make the right choice: where to run, assist on a goal, for example, and so on.
If the player sees again and again what surrounds him, how he was standing, how the error looked, then in the future he will be able to make more correct decisions.
"Arsenal" and "Stoke City" cooperate with Beyond Sports, which allows simulating game situations and practice various tactical maneuvers in VR sport mode. Players enter a specially equipped room, put on virtual reality glasses, and create the necessary game episode in the program. As a result, players can practice the game on the field, in fact, being indoors. For example, it is possible to reproduce the moments in which goalkeepers often make mistakes.
VR skills training
Since VR allows simulating situations without the participation of competitors (hence, without the risk of injury), such training is especially popular in NFL. STRIVR, which 6 league clubs work with, claims that it has more than 50 000 training scenarios. A remarkable example is J. Beathard, San Francisco player. He was considered as a reserve quarterback before the season. Suddenly Beathard has improved his personal statistics. As NBC Sports Bay Area reports, Beathard simulates in VR up to 1000 different situations per week.
Aggregating the picture, STRIVR reports that teams VR-trained by STRIVR have won 9 Division, Conference, and NCAA titles in just 2 seasons. Impressive results, are not they?
But how does virtual reality help to train at the highest professional level?
Scientific evidence of the effectiveness of VR technology in training athletes
A safe platform for teaching real-world motor skills
Although the research is done concerning motor learning in dance, there is every reason to suppose that they are fair for virtual reality and sports because the physical basis of dancing and sports is the same, it's a repetition for honing skills.
The essence of the experiment is as follows. New students learned in different conditions the action by watching a video that showed expert's demonstration. These different conditions were with full feedback, reduced feedback and with no feedback. Full feedback means that learners were presented the difference between 12 of their joint center locations and how the expert moved during learning. Reduced feedback is for providing feedback on only 4 distal joint center locations. No feedback indicates that learners didn't use virtual reality as a tool for training. Kinematic data of the participants were gathered before the session, straight after and 24 hours after the experiment.
The results of the experiment were surprising. It turned out that the best results were shown by the second group of learners. It proved the ability of VR learning to direct the attention of the student to the key anatomical features of the action that has to be coped with.
The same results were provided in the research "The Use of Virtual Reality in Motor Learning: A Multiple Pilot Study Review" by Wingate Institute, Netanya, Israel. Particularly, the researchers came to the conclusion that "virtual reality can be an effective means of teaching and training basic motor skills, sometimes even superior to "real-life" because of the highly modifiable environment and difficulty in the comfort of one's clinic or home.
Planning tactics and strategy
Another recent report touching using VR in different areas including sport is "Enhancing Our Lives with Immersive Virtual Reality". It was prepared through the interaction of University of Barcelona, Catalan Institution for Research and Advanced Studies, University College London and The August Pi i Sunyer Biomedical Research Institute. It was published in 2016.
This report emphasizes that some sports, such as table tennis, raise high requirements for VR simulator that are very difficult to implement. "For example, learning to spin or slam in table tennis requires very fine motor control depending on vision, proprioception, vestibular feedback, tactile feedback, force feedback, even the movement of air, and the sound of the ball hitting the table and the bat".
And yet, as it is described in the report, without reproducing minute details VR is an effective tool for training motor skills and also for planning overall strategy and tactics.
The effectiveness of different means of immersion into gameplay
The effectiveness of different means of immersion into gameplay is analyzed in the research "Game-day football visualization experience on dissimilar virtual reality platforms" done by Iowa State University in 2015.
The scientists have conducted the comparison study of the world's highest resolution six-sided VR environment (С6) at that point in time, portable low-cost head-mounted display system and video. The technical means of immersion were evaluated according to 6 parameters, namely realism, possibility to act, quality of interface, possibility to examine, self-evaluation of performance and sounds.
The main results of the experiment indicated that HMD is slightly inferior to C6 for such parameters as possibility to act, possibility to examine and realism. They can be considered as the most important in sport training and analysis of the performance. Well, median scores of C6 on all these parameters are a little bit higher than analogical ones of HMD.
The median score of different types of visualisation experience

Video

HMD

C6

Possibility to examine

7

10.5

11.5

Possibility to act

7

10

11

Realism

*

22.5

28
*- no precise data on the parameter
Data: "Game-day football visualization experience on dissimilar virtual reality platforms", Iowa State University
Thus, it can be concluded that HMDs are likely to develop faster than other, more expensive immersion systems like CAVE. HMDs are much cheaper at almost the same high quality of immersion into virtual environment.
The current state of training in VR
Visualization systems
So far, athletes have only one or two senses (vision and sound) involved when training in VR. They put on a HMD and scrutinize game situations. This method is certainly good. Thereby different game situations that occurred or can occur in a real game imprint themselves into the brain. In addition, virtual reality contribute toward learning all the scenarios in a very short period, without expending physical strength and without the risk of injury. This is a tremendous advantage for professional athletes who need to train 2 workouts for 2-3 hours each almost every day.
As can be seen from the above, VR saves physical strength, introduces a variety of game schemes, and, let's face it, cuts corners on the coach and playground rent, being an additional tool for training.
Basketball
The Wizards were among the first to implement the STRIVR technology into the team's training routine. As one can judge, management led by Ted Leonsis is experimenting with new technologies. This can be seen from the statistics of players who combine the periods of games with the active use of virtual reality, namely, STRIVR and without it.
Ian Mahinmi playing in Washington Wizards has improved his game statistics significantly. After injury, the player's performance fell a little bit. According to STRIVR data scientist Joe Willage showed in the report, for 8 weeks when Mahinmi hadn't trained with VR, his free throw percentage was 41.9 %. Only after 3 weeks of training simulator experience he averaged 73.3 % at the line. For reference, the player's has a 59.5 percent clip from the free throw line in his career.
"It's more like building muscle memory, but for your brain."
Ian Mahinmi told in the interview to ESPN
STRIVR had shown Mahinmi his free throws to allow working out the motion and stroke. Thus, virtual exercises help basketball players to absorb and retain gaming practice even without basketball court.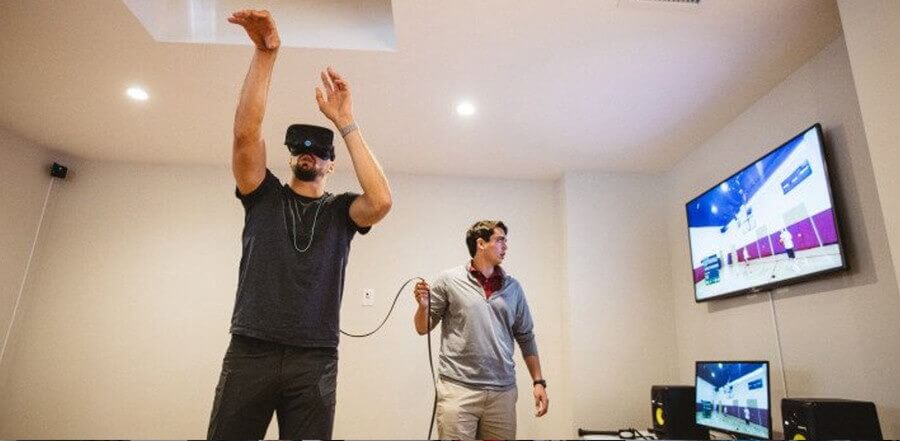 Boxing
One more sport that extracts significant advantages from virtual reality is boxing.
In boxing, almost all participants have a hearing disorder, broken fingers, and what is most important, most often concussion of the brain, which leads to mental and nervous disorders. When the reserves are exhausted, premature aging of the organism, diseases, sometimes even early death, occur.
A jump-start training termination resulting from trauma or career endings leads to premature aging of the tissues. This process is susceptible to everybody, but for the majority, it occurs gradually. If all the organs and tissues of the athlete, who are accustomed to an active blood supply, are suddenly deprived of it, then the desolation of capillaries, muscle atrophy and a sharp increase in body weight occur very quickly. These people will not live long.
VR is a way to safe training both for boxers who lacks science and experienced sparrer. In addition, VR sport training is extremely favorable for a ring rusty to gain a considerable momentum in boxing.
The most popular boxing VR simulator is "Thrill of the Fight". It's necessary to have HTC Vive HMD and controllers to play the game. Fighting against a virtual opponent you have to dodge, approaching the enemy, preparing to strike and attack. That is, it is necessary to move as in real training, which hones the speed of reaction, improves the skills of both defense and attack. Except that you have to keep the controllers in the hands instead of throw leather.
Baseball
Boxing is not the only traumatic sport. Similar traumas, including such serious as brain concussions, occur in a wide range of sports, from rugby and American football to cricket and baseball. Even minor brain injuries, such as concussions, can significantly increase the risk of early death. People with concussion are twice as likely to die prematurely than the control group, mainly as a result of suicide and fatal injuries.
Baseball is considered a safe non-contact sport, requiring minimal protective equipment. Indeed, in terms of the risk of injury, this sport is the last in the list of traumatic. But, ironically, baseball is the second (after American football) in terms of the total number of injuries. This confusing statistics is based on a large number of athletes, from children to the elderly. This is a popular sport that amateurs and professionals are engaged in, and some of them are injured.
When we look at typical injuries in baseball, we know that many of them are caused by relative inactivity, following jerk. Imagine that you are standing alone on the perimeter of the field. The ball flies in your direction, and you dart off from the spot at maximum speed. Or after five minutes of sitting on the bench you are called to the position of slugger, you grab the bat and get into position. Your body sometimes experiences difficulties in transitioning from a state of rest to a sudden activity.
One of the world's most advanced baseball VR (virtual reality) simulator is EON Icube. It's an environment where sound and imagery are simulated. EON Icube can be configured into the environment with from four to six walls where the player can experience the ball's trajectory, its throwing speed, and the sharpness of the changing ball as if facing the real pitcher.
This is a digital system, so it is different from virtual reality systems, such as STRIVR, which uses real 360-degree virtual reality sports videos.
The peculiarity of the system is the possibility to imitate the pitches of the best MLB pitchers. There are about 50,000 different pitches available from thousands of MLB players. Of course, this is the best chance to learn from the best players and prepare for a meeting with them on the pitcher's mound. CEO of EON Sports, Brendan Reilly, called it "an advanced scouting report".
By now, multiple MLB (Major League Baseball) teams such as The Tampa Bay Rays, Colorado Rockies, Cleveland Indians have adopted the EON Sports' technology as one of their training components. Baystars even have equipped with facilities a training room that is dedicated to the technology of EON Sports at Yokohama Stadium.
Football
Another type of sport, which has changed a lot lately due to virtual reality is football. Training in football is held today, as in other sports, which were described above. Nevertheless, there is one interesting study dedicated to football. Namely, the one recently published in the Journal of the American Medical Association. The scientists looked at the brains of 111 deceased former football players. It turned out that 110 of those brains had the degenerative brain disease CTE.
Now then, the technology which helps to assess concussions objectively in 1 minute. It's eye-tracking technology was invented by SyncThink. The Cyclones' football and wrestling programs have already confirmed that would use EYE-SYNC as a part of identification and management plan.
According to ISU Director of Sports Medicine and Associate Athletic Director Mark Coberley, EYE-SYNC can "identify possible concussions, determine appropriate return to play decisions, and as importantly, target and evaluate identified areas of dysfunction that can be addressed more effectively during the recovery process."
Deducing an inference from the facts, virtual reality technologies in sport is intent on faster kicking into gear, improving performance, a more diverse analysis of game situations, as well as the safety of athletes.
Future of VR in sport
There is an opinion that it's sports that will give a boost to the spread of virtual reality as a mass medium. Todd Klein, partner Revolution Growth, in his article at Forbes equate VR with TV. He adduces as an argument the sales statistics of televisions, which soared after the first World Series broadcast.
VR spectator to become sports correspondent
Even as we speak, every VR experiencer can be a sort of sports correspondent that creates its own narrative, repeating high lights, choosing different camera angles, making comments in real-time mode. Perhaps, for now, this is not really of such good quality as we would like, but, most likely, no one will argue that VR in sport will develop quickly in this direction.
VR in sport is turning into social experience
As it was mentioned above, the technologies are often scolded for isolating people from each other. Nevertheless, virtual reality sporting events are available for joint pastime with friends.
Many VR manufacturers promote their platforms precisely through these particular opportunities for users. Allegedly, VR content players will be deeply integrated into social networks, where the possibility of broadcasting to a wide audience is maximized and joint viewing is facilitated.
Huge business opportunity with many technical challenges
VR in sport is a stack of technologies, the main of which are video technologies and data processing. Therefore not so many companies are able to afford to enter the innovative market. The leading players are Intel Sports VR Group, NextVR, VokeVR, EON Sports, STRIVR Labs, Beyond Sports, Sports Illustrated VR, Virtually Live, LiveLikevr and VRoomCam. Some of them have set the scene for coming into the market for years. Moreover, only high expenditures can meet numerous challenges of VR sphere:
сonnection speeds;

standardized communications protocols;

stitching technologies;

natural language processing capabilities;

image capture;

integration.
However, the global sport is estimated as $1.5 trillion industry. According to SuperData Research, VR global revenue is forecasted to rocket 15 times, from $1.8 billion in 2016 to $28.3 billion in 2020. It is clear that sport for virtual reality is not the fastest growing application, as, for example, VR gaming. Though, as Deloitte informs, the sports industry is escalating investments in VR technologies, recognize its importance and potential to transform content consumption.
"I think VR in sport can be a couple billion dollar business."
Brian Krzanich, Intel CEO
Deeper immersion
Of course, the means of immersion will develop a little differently in professional sports and in the segment of sports content consumption. So far it's obvious that being relatively cheap VR technology with a good immersion, HMDs will be perfected the fastest.
Still, leading companies in virtual reality sports simulators such as STRIVR Labs, EON Sports, and Beyond Sports, offer only the use of a helmet. In fact, sports VR training is performed by the instrumentality of visualization systems that is a part of computer simulation.
Nevertheless, soon in the professional sports many will use the technology. Therefore, athletes and their coaches will look for new ways to improve competitiveness. More sophisticated immersive systems will be deployed which will add realism and the ability to act in a virtual environment.
Motion capture systems
A great step forward is the use of a motion capture system. Different types of them allow transferring movements from real life to virtual reality. That is, a digital model of an athlete is created. It runs, jumps, throws for the goal or sends the ball past the goalkeeper. Or does not send. The motion capture system provides visual feedback for analyzing the athlete's performance and accuracy.
Thus, each motion can be reproduced plenty of times. The athlete can see himself as others see him. The coach can give specific recommendations how to improve the technique.
Haptic feedback systems
The term "muscle memory" is well known both by every athlete and people being miles from the sport. Muscular memory is a long-term restructuring of the nerve and muscle cells, caused by physical training, which ensures the rapid reсovery of the former physical fitness after a long break in training. The break may be due to many reasons: long rest, serious injury, etc. During the break muscle greatly decreases in size, endurance is reduced. The peculiarity of muscle memory is that after a long break the athlete, previously engaged in sports, restore the previous strengths, muscle volume, and endurance very quickly. The newcomer will achieve similar results much longer.
Let's get down to brass tacks. Another attribute of virtual reality, which is not spread yet widely yet, but has great prospects is tactile feedback. What is haptic feedback we have written earlier.
Repeated vibrations or electrostimulation of gloves or smart clothes form a muscle memory that allows the wearer of smart garments to learn movements easier and faster. Haptic feedback is especially useful for beginners in sports or for learning new techniques. It has been scientifically proven that a haptics feedback allows you to master motor skills with much less practice and repetitions than would be required without it.
Haptic feedback + motion capture = synergy
The scientific community has long been talking about the use of visual and tactile systems for effective teaching of the movement. "Development of a Motion Teaching System Using an Immersive Projection Display and a Haptic Interface" was one of the first researches on that subject that was conducted in 2007.
It is difficult to express accurate body movements by using words or images alone.
"Development of a Motion Teaching System Using an Immersive Projection Display and a Haptic Interface", University of Tsukuba, Japan, 2007
The result of the investigation was the following: the system consisting of a haptic interface, a motion capture system and an immersive projection display can be used as an effective system of instruction for teaching movements. Moreover, сonsidering a large number of testees, conclusions were drawn about the possible wider use of such systems.
The study "Haptic feedback enhances force skill learning" (2007) also proves the synergetic effect of haptic and visual feedback in motor training. The researchers demonstrated that the accuracy of force recall is much more precise following visiohaptic training than following haptic or visual training alone.
Another research more closely related to virtual reality sports games is "A review of virtual environments for training in ball sports". The goal of this study was to show and prove the effectiveness of virtual environment not only for entertainment or strategy analysis, but also to improve sensorimotor skills.
Huegel and O'Malley presented their study "Progressive Haptic and Visual Guidance for Training in a Virtual Dynamic Task" at Haptics Symposium 2010. They proved that haptic feedback is useful to trainees in course of beginning to understand the task and allow him or her to become reliant on their own skills.
"A review of virtual environments for training in ball sports" of 2012 describes that for sport virtual environments, "real, physical haptic items could be of great benefit, as many sports revolve around a physical object (football, tennis ball, rugby ball, shuttlecock, etc.) that could be used to maintain links to reality".
Full-body experience
Full-body experience is understood differently by everyone as well as full immersion. For maximalists, full-body experience is the ability to get sensations as close as possible to real life. Such an experience includes touching which covers hands, body, and feet.
At the same time, some games like Sparc by CCP Games are called full-body experience. VG24/7's Alex Donaldson reviewed Sparc as "the type of VR game that I've been waiting for — a convincing full-body experience that would truly only work in VR." It's just a matter of discretion. Yes, the game provides a more immersive experience as usual, but VR headset and motion controllers are far from full-body experience.
Connecting up smart wearables to VR
Smart wearables are already used in pro sport for measuring the health indicators of the athlete, as well as his performance. In addition, cameras have recently been integrated into the smart clothing to broadcast from the position of the player.
One more, less-common solution of VR wearable is haptic suits with tactile feedback. The devices have great potential in consequence of their portability and flexibility. Smart clothing with haptic feedback can provide an additional signal in a virtual environment where the use of visual feedback is impossible, inconvenient or even ineffective. Moreover, in training wearable haptic can be both guidance stimuli when it is necessary to brush up on motor skills and attentional stimuli.
So far this method of training has not found its wide distribution in professional sports, but wearables are likely to enter pro sport as new health and wellness technologies. NBA has already begun the developing structured rules how to apply wearable technology in the sport at the highest level.
Conclusion
The virtual reality has already begun to change the way we watch sports events and the way we communicate during them. You can even feel like real sports hero, viewing the action from the player's perspective.
In addition, competing at the proper level in professional sports becomes almost impossible without the use of the emerging technologies. VR is one of them. It allows getting meaningful data of key games and training recreating athletes' actions. Virtual reality sports training professional athletes and teams can be qualitatively changed and this is already used by many sports professionals.
Previously, TESLASUIT marketing team has prepared the content about VR in gaming industry.
Follow our blog to learn more about VR, smart clothing, and related technologies.
If you want to ask any specific details, please, feel free to contact us or comment below.