A breakthrough in human performance training
Our key technologies used
Applications
XR Training
Putting humans in real dangerous scenarios for training is a risk not worth taking with the technology available today. Most of the time it is impossible to put humans in the scenarios they would need to really feel the jeopardy needed to push themselves. With real-world training being too complicated, expensive, and risky, immersive technologies like TESLASUIT provides the foundation for new types of learning environments both safe and immersive.
Learn more
Developers
With the focus towards more immersive experiences in entertainment and education, it is important that developers get access to the tools and technology needed to produce world-leading content. Therefore, we provide an open API/SDKs and great plugins for the Unity and Unreal engines. These out-of-the box tools have allowed our partners to develop world-first experiences within esports, TV & Film, academia, and gaming.
Coming soon
Research
Due to the 3 high level systems that focus around understanding human behaviors, TESLASUIT is an excellent research tool which is currently being used by over 50 research institutes around the world. These projects vary from master's and PhD projects at world renown universities to governmental and medical institutes. You can find TESLASUIT involved in aerospace, automotive, medical, defense, sporting, and behavioral science projects.
Coming soon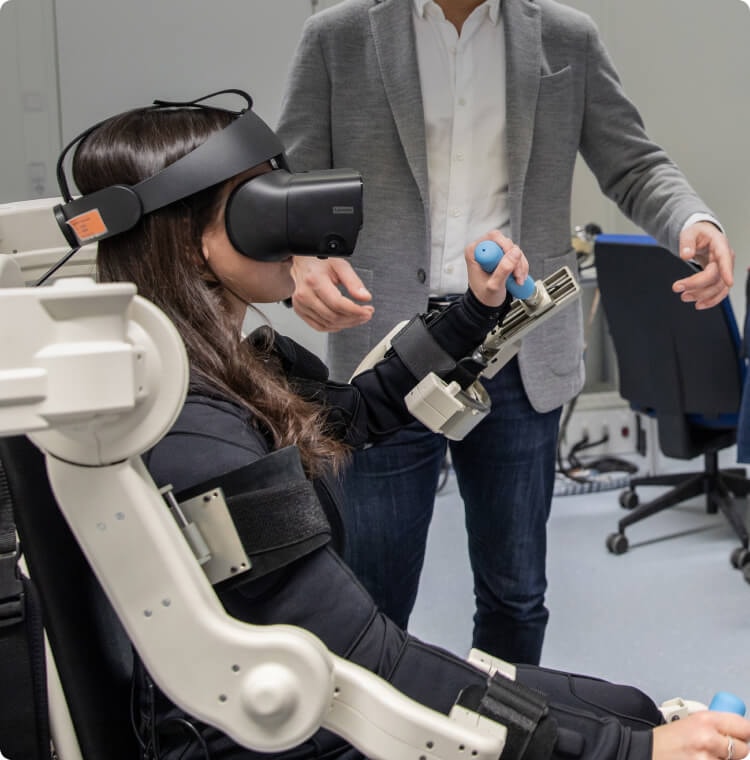 Medical
Within the medical industry there are many tools that effectively provide analysis and feedback to the patient within the rehabilitation space. TESLASUIT is a great tool being used to activate specific muscle groups and help speed up the rehabilitation process. We currently have rehabilitation projects in areas of post-surgery, spinal cord, and sports injury recovery.
Coming soon
Media about us
Using electro-tactile haptic feedback, the Teslasuit can mimic sensations like bumping into a wall, touching an object, or the impact of a punch in AR/VR settings. We witnessed these sensations first-hand at CES 2019. From the prickly patter of raindrops to the growing waves of static, we experienced how the Teslasuit can bring virtual worlds to life.
Complete sensory VR immersion is years away, but is one of the most oft-requested and dreamed about advances in the industry. Teslasuit appears to be the next product to market that aims to let you feel it all in VR, and it looks a hell of a lot like Wade's suit.
The Teslasuit's haptic technology allows transmitting touch and is a great way of making VR experience deeper, immersive, and more realistic. It is actually an additional channel of communication and a new way of making VR experience deeper, immersive, and more realistic.
One of the most exciting devices shown is something straight out of a movie: Teslasuit. Simply put, whoever wears the suit feels like they are actually in whatever environment they see and hear. If you've seen Steven Spielberg's Ready Player One, this suit is what you see in the movie.