There are numerous focus areas in VR entertainment. We have already reported about the most popular of them, VR gaming in the article "VR Gaming: How Industry Will Propel the Technology". So, let's think how virtual reality will affect entertainment industry.
Innovations in VR entertainment can change the behavior and preferences of consumers in a short time. So, companies need to adapt quickly to rapidly changing market trends and invest in the development of new technologies.
As PwC analysts consider, the main reason for the maturing changes in entertainment is a succession of generations. The analysts say about the following. Instead of a generation of baby boomers, a generation of millennials and generation Z become solvent and start to consume more entertainment content. More importantly, they do it differently than previous generations, using new channels, possibly spending less money on it.
According to The Venture Reality Fund, investments in the entertainment sector in the 2nd half of 2017 increased by 79 % compared with the same period in 2016. In many ways, this is due to the ubiquitous spread of VR. As VR Fund reports, more than 450 companies involved in the development of applications, infrastructure, tools, and applications for the AR/VR ecosystem. For now, in 2017, investments in VR and AR amounted to $2.3 billion. This figure is higher than in any other year.
Let's look at how the trend directions of entertainment change or will change and how VR matters in these processes.
VR gaming is still the main sector of VR entertainment
The most evident application of virtual reality entertainment is gaming. The VR Fund makes an estimate that more than 35 virtual reality game titles have earned $1 million or more in revenues. As the fund reports, this pattern highlights healthy early-stage ecosystem for virtual reality game implementers.
Earlier we have already analyzed it in the article "VR gaming: how industry will push the technology".
In summary, it can be said that gaming is meant to be driving force of VR. It is developing and will continue to do it in the long run towards the emergence further 3 senses: touch, smell and taste.
The percentage of VR gamers is predicted to rise, and market revenue is expected to rocket until at least 2025. Particularly, mobile VR gaming segment will jump in the near future.
For now, genres of VR gaming market duplicate the most popular traditional video games' genres. Specifically, simulations (shooters, races, and action VR games) are most in demand. However, it is likely that content developers will saturate the market with a more diversified menu of games in order to win all hearts of the wider audience, for example, women, young children and the elderly.
Cinema VR experience is becoming habitual
Probably, cinema still remains the most popular kind of out-of-home entertainment. Currently, cinema like other ways of entertainment is changing toward digitization.
The most new-fangled technology in cinema is virtual reality.
"VR ultimately will change entertainment. VR will be an immersive experience impacting all the senses – sight, sound, motion, touch, smell."
Digital media consultant Bernard Gershon, a former Disney strategic planning executive
Charity organizations were one of the first to use VR in the movies. The idea was to let us travel in different points of the planet and provoke empathy. The average person can hardly imagine what it is like to be in the war-torn neighborhoods of Syria ("Clouds of Sidra") and the bullfighting rings in Spain. Nevertheless, virtual reality provides, first of all, first-person experience, though within the bounds of the preassigned plot.
Some universities have already begun to train in VR. One of them is University of North Carolina School of the Arts. There people of good education perfectly understand that what's behind this beautiful picture of the immersive space. This is the current crop of screenwriters, producers, filmmakers, and others, less mentioned, but no less significant specialists.
University of North Carolina School of the Arts (UNSCA) cooperates with leading technology companies and uses the same innovative equipment as Hollywood. The School of Filmmaking in UNSCA is one of 11 schools in the USA that was chosen by Oculus to get breakthrough equipment. The school has also obtained Samsung Gear 360 cameras, Samsung Gear VR headsets and phones, and flagship computers by Advanced Micro Devices, that are used in narrative filmmaking and digital gaming.
"We can't really predict where VR is growing, but there's a lot of investment in it across the board. And there will be explosive growth."
Susan Ruskin, Dean of the School of Filmmaking, UNSCA
Earlier virtual reality was almost exclusively gaming trend. But now VR is coming into all types of entertainment. It became especially clear in case of cinema. To be sure, cinema is starting to remind of arcade experience or game. Perhaps, in the future, the plot of the films will become nonlinear.
Major movie studios such as Disney and Warner Bros. create branded VR content. Virtual reality movies are demonstrated at major film festivals. For example, Tribeca Film Festival showed 29 VR projects.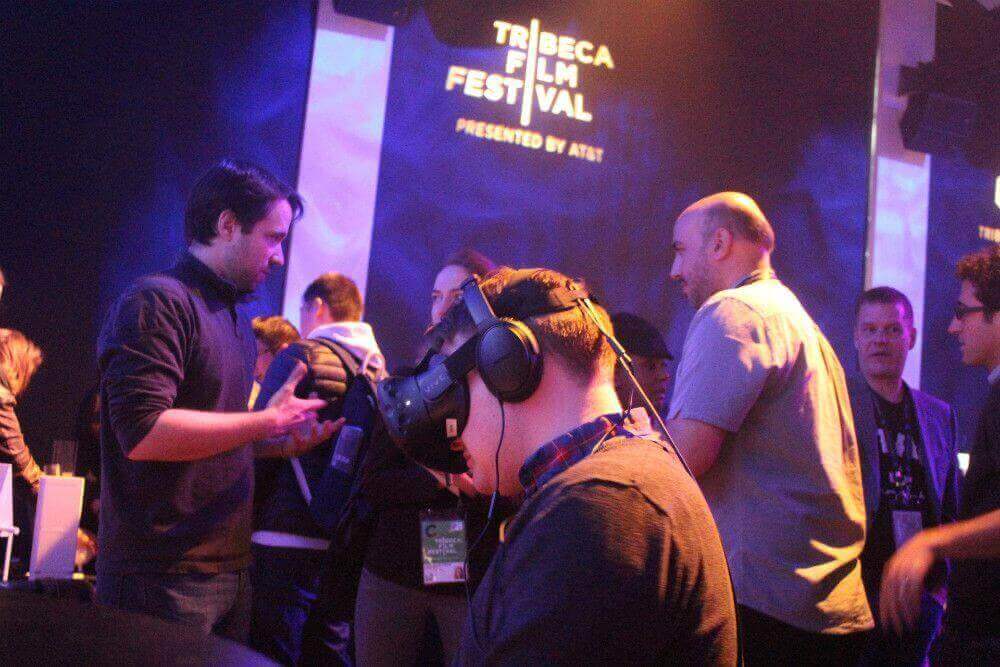 In anticipation of Halloween 2017 Veero has partnered with WeAreCinema to show Haunted Cinema in the UK. It was a series of short VR horror films that were shown in Covent Garden.
Then Veero claimed that if the event was successful, the company would launch permanent VR cinema in London. Meanwhile, the first VR cinema was opened in Amsterdam in 2016. It's The VR Cinema. Futuristic virtual reality glasses and 360 degree rotating seats are the equipment in keeping with the best traditions of VR entertainment.
Paramount Pictures Corporation is one more film studio that bring VR cinema into masses. It launched virtual reality movie theater that can be caught at Bigscreenvr.com. When you put on the HMD, you feel like in the movie theater. The first movie shown was "Top Gun" in 3D on Dec. 29, 2017. Also, Bigscreenvr.com provides the possibility to virtual remote coworking. Paramount also plans other movie shows in 2018.
Music VR experience as additional means for industry revenue
There are several types of musical experiences in virtual reality.
The first one is the most popular. Videos created with the help of 360-degree cameras are referred to it. The example is Melody VR. This kind of VR music experiences is adopted by owners of Samsung Gear VR and Google Daydream.
The second one is so-called fully-simulated VR entertainment, when the concert is completely simulated, e.g. TheWaveVR. In this case, virtual environment and avatars of the artists are created. Coldplay, The Weekend, Katy Perry have an upcoming performance that's available exclusively as a completely simulated VR experience.
For this type of events, high-end VR equipment like HTC Vive is needed to provide appropriate quality of presentation.
New source of income for VR studios and musicians
Popular bands and singers such as Queen, U2, Fort Minor, Björk, Dawn Richard have already started to present their music through virtual reality. Sony has recently announced about the collaboration with Grammy Award nominee, songwriter, and singer, Khalid for a certain amount of VR entertainment experiences.
Vrtify is a US company that is engaged in transforming music into VR experience giving back of 70% of their income back to the artists. Their CMO, Marcus Behrend, is convinced that VR will change how we listen to music and will make profit for those who create and distribute music.
"Immersive technologies aren't mainstream, but we all see how quickly they're evolving. It will soon represent a very important income for the music industry because it is changing how fans are consuming music."
Marcus Behrendt, CMO of Vrtify
He thinks that new cash flows will be created by membership subscriptions, pay-per-views, and advertising.
In fact, the competition in the music sphere is so high that such innovation as virtual reality can benefit both the performer, the producer and the virtual reality agency, as for a while few use the technology.
Live VR music experience
Today, almost all major music festivals such as Ultra Music Festival, Mad Cool Festival, Sziget Festival, Festival Primavera Trompetera create their own applications or videos for virtual reality, so that fans can enjoy live music without leaving home. Indeed, although music festivals are large-scale events, but their capacity is limited, so the VR entertainment technology is a great way to build up the audience and get extra money for viewing events in virtual reality.
"Experiencing the concert in virtual reality is something that people would be willing to pay for. In the future, it may be one of the most important revenue streams for musicians and producers."
Jacek Naglowski, chief executive at Circus Digitalis
In addition, live VR entertainment experience is possible to share and this occasion will also contribute to increasing the popularity of music in virtual reality.
Cooperative music mode
Cooperative mode is one of the advantages of virtual reality and it resonates with many VR applications beyond music too.
Сurrently it's hardly possible to create such a mode of cooperation where one could create music because the time lag in VR is still quite long, but in the future, virtual listening and even virtual recording of music can become a reality.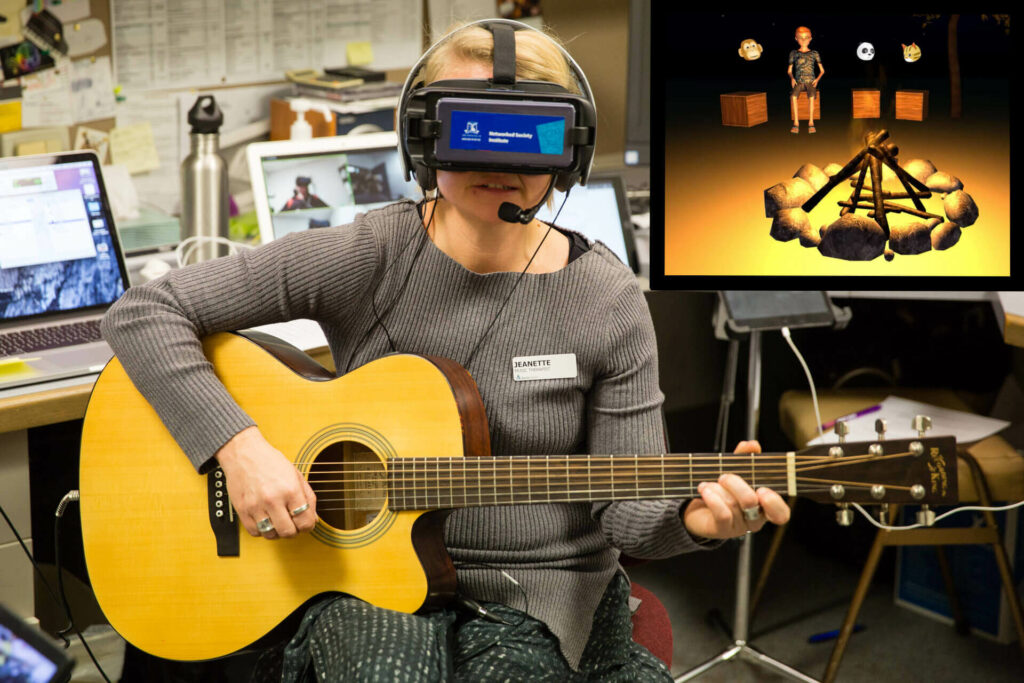 Besides, VR will give the fans more opportunities to look in their cult-figure's lives and communicate with stars. Certainly, it will be on a commercial or semi-commercial basis as for famous artists.
"Any pop star will be able to create the whole world that their fans can visit and interact with."
Dylan Southard, producer at VR Playhouse
Technical features
So far, virtual reality is mostly tailored to visual content. Other human senses such as touch, smell and taste are being slowly adopted. As for audio, everything is not so uniquely. Currently market have very little quantity of mass solutions in the form of a helmet with built-in headphones. Now earphones are not implemented in most famous helmets, such as Oculus, PSVR or HTC Vive. Although there is an option to purchase Vive Deluxe Audio Strap for HTC Vive. More often this is either an additional wearable or simply a sound from a computer system that activates the VR content.
Nevertheless, there are not so well-known HMDs with earphones, e. g. AUKEY VR Headset or HelloPro or Vuzix iWear video headphones. It is quite possible that development of HMDs will be along here. In other words, 3D sound and picture will be built into future HMDs for a deeper dive into the virtual music world.
There is such a thing with the sound that people take it in 3 dimensions. Thereunder, humans are capable of identifying the direction of the sound even if we can't see the source of the sound. So, the problem of coordination of the picture and the 3D sound in virtual reality.
The creation of sound in three dimensions itself is a particular task. One of the most popular and effective techniques is object-based audio. Wherein, this method has one limitation: visual patterns should be pre-configured. Such a solution means attaching audio info to any number of visual objects. The VR creators can precisely specify where the objects with sound should be situated and how they should move. At the result, the sound is changing as the experiencer turns his head. So, the real VR sound is hard to work over.
There is a possibility that virtual reality will become a common technology in the music sphere because it is a ready market with high money and large-scale record labels. There is every likelihood, it's only a matter of time how fast the quality of the technology will be improved according to our high expectations and on the basis of this, how high the demand will be.
Virtual museums and galleries: from boring visits to trendy pastime
Virtual museums
Although for many people going to the museum is a boring amusement, but with the advent of the virtual reality helmet, some may reconsider their position.
When we say virtual museum we literally mean a digital environment which has all of the characteristics of a traditional museum. That is to say, virtual space where you can appear not leaving your home. This is may be the copy of real museum that is located miles away or doesn't exist physically anymore.
One of the oldest virtual museums is Virtual Museum of Canada, national virtual museum of the whole country. It comprises the collections of 2500 Canadian museums situated in different cities. Virtual Museum of Canada includes virtual exhibitions, free online games, educational resource and also more than 580 000 images. The content is provided by Canadian museums, and the administrative functions are performed by Canadian Heritage Information Network.
All the same, museums are created for educational purposes among other things. One of the categories of target audience is children. Everyone who went to museums with children knows how tedious it can be: to stand in a queue, take breaks in the excursion when the child is tired, look for the place to have a snack and so on. In addition, it can be just an expensive admission ticket or a museum is located in another country.
Virtual reality as a modern technology can neutralize all the above described difficulties.
In 2017 British Museum partnered with Oculus and created VR experiences. High resolution 360-degree photos have been mixed with additional content layers, including audio comments of experts and and interactive three-dimensional models of some exhibit items. Now British Museum is available for visiting from anywhere in the world.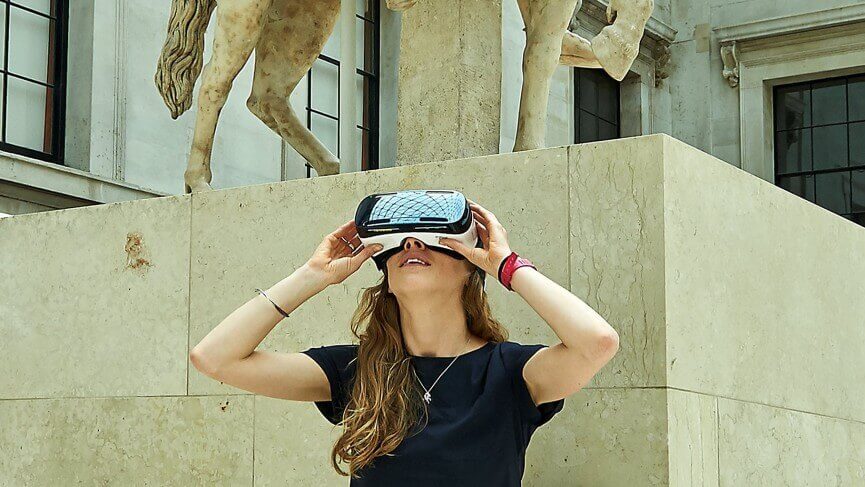 The same applies to Smithsonian American Art Museum in Washington. It collaborated with Intel and some VR studios such as Framestore, V.A.L.I.S., xRez and 8i. The technologies of creating three-dimensional content from two-dimensional photos (photogrammetry) and laser scanning were used. Framestore was responsible for the interactivity while Intel provided a powerful Xeon-equipped rig to create the demo.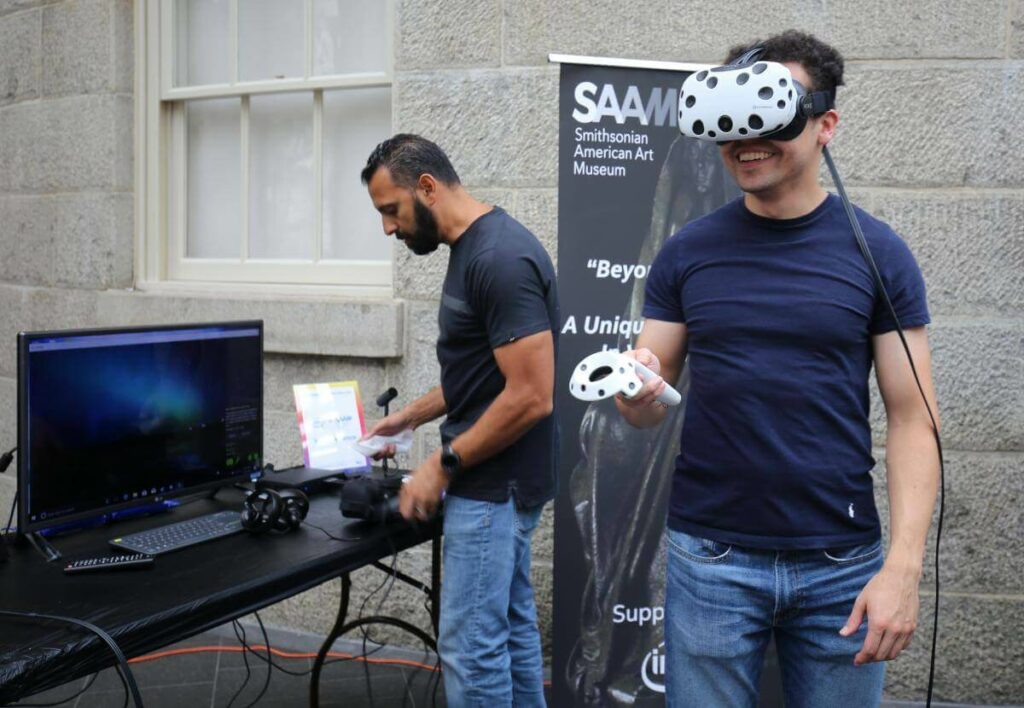 Also it's possible to move around the space and manipulate the objects. There are exhibitions where you can experience the atmosphere of showroom crowded by virtual visitors.
The representatives of Intel say that the Smithsonian just now doesn't plan to promote their virtual reality tour for a general audience and at the moment it is unclear whether the museum will go on creating VR experiences.
Even more ambitious project is Vive Arts by HTC Vive. Launched at the end of the year, the new multi-million dollar global virtual reality program is predicted to alter how we create and perceive the art.
"We are empowering artists to create, and consumers to experience and interpret, art and culture in new ways."
Joel Breton, vice president, VIVE Studios
VR museum experiences are available at Washington D.C.'s Newseum, London's Royal Academy of Arts, French National Museum of Natural History in Paris, National Palace Museum in Taipei and Hermitage Museum in St. Petersburg.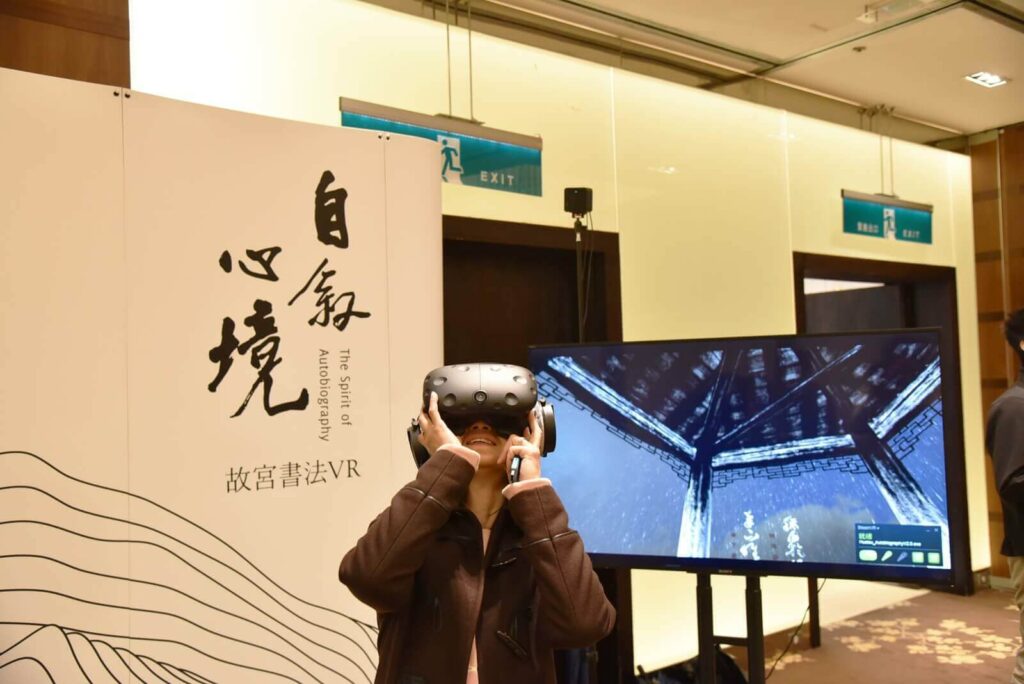 Also there is "Arts" section on Viveport, app store for VR by HTC Vive. It's extremely useful for educational institutions which train specialists in relevant profession.
There are also many applications on Steam that touches on culture and art. One of them is The VR Museum of Fine Art by Finn Sinclair. It's a free application that contain 1:1 scale paintings and sculptures. The experiences can observe 15 high-fidelity sculptures with no barriers or glass walls.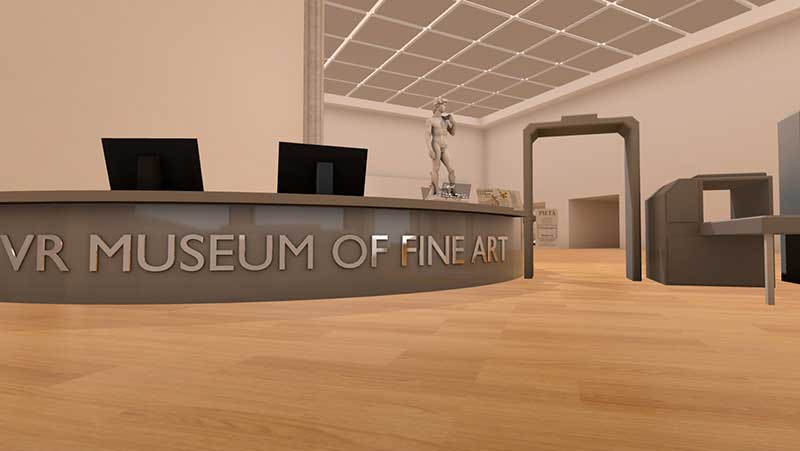 Two famous paintings are included in this collection of the museum. They were scanned and rendered in painstaking detail.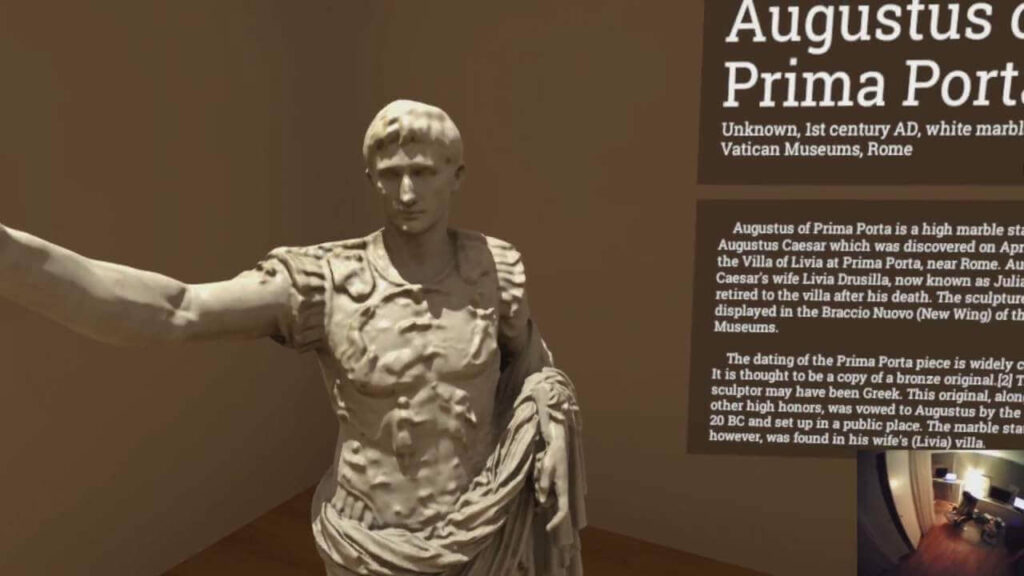 If the visitor wants to examine the display exhibit into details, he or she can use informative holographic plaques which are located near each showpiece.
Hobby lessons in virtual reality: a modern way to learn new things
One more application of virtual reality in entertainment is hobby lessons. That is exactly what mixes education and entertainment. VR edutainment is used by many entrepreneurs and experts to promote their products and services and to build a brand.
The example is Gabriele Corcos, сhef of The Tuscan Gun, Italian cafe in Brooklyn. Gabriele collaborated with YouVisit to create VR experience that is a series of cooking lessons. The purpose was to popularize his new cooking book, "Super Tuscan: Heritage Recipes and Simple Pleasures from Our Kitchen to Your Table".
During the lessons you are transported to the chef's kitchen and study how to make the dishes as the pro does it for the visitors of his restaurant. Also, there is a possibility to purchase the book right from the VR environment.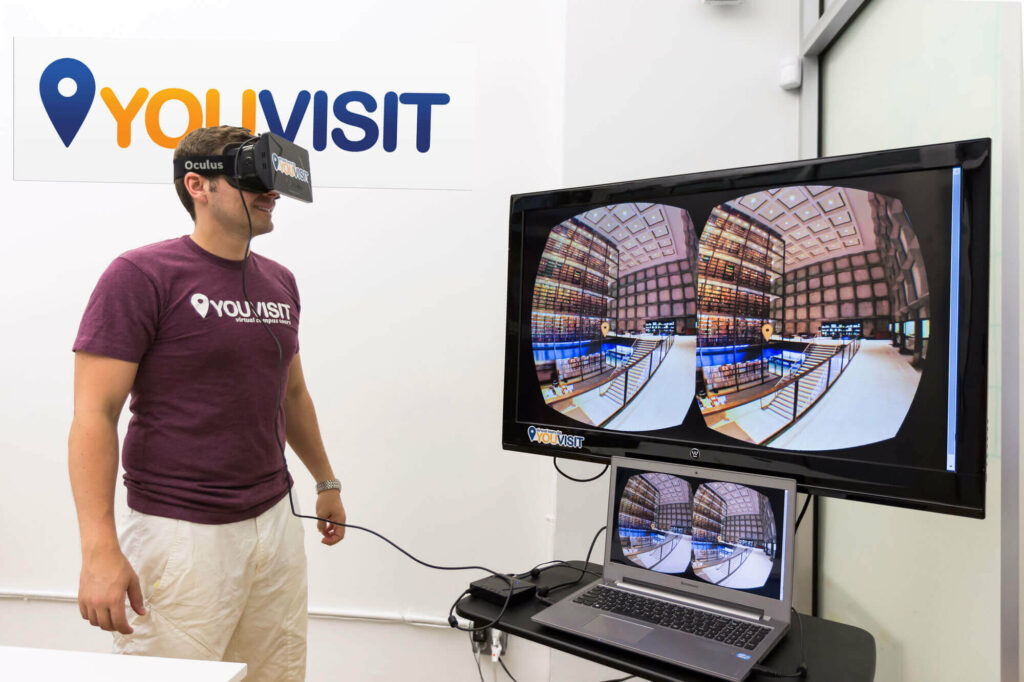 Besides, there are VR applications that facilitate the study of foreign language. What a cool way to concentrate – to appear in VR and learn new words through visualisation schemes. Such a solution is House of Languages VR by Fox3D. You can choose English, German or Spanish languages to study.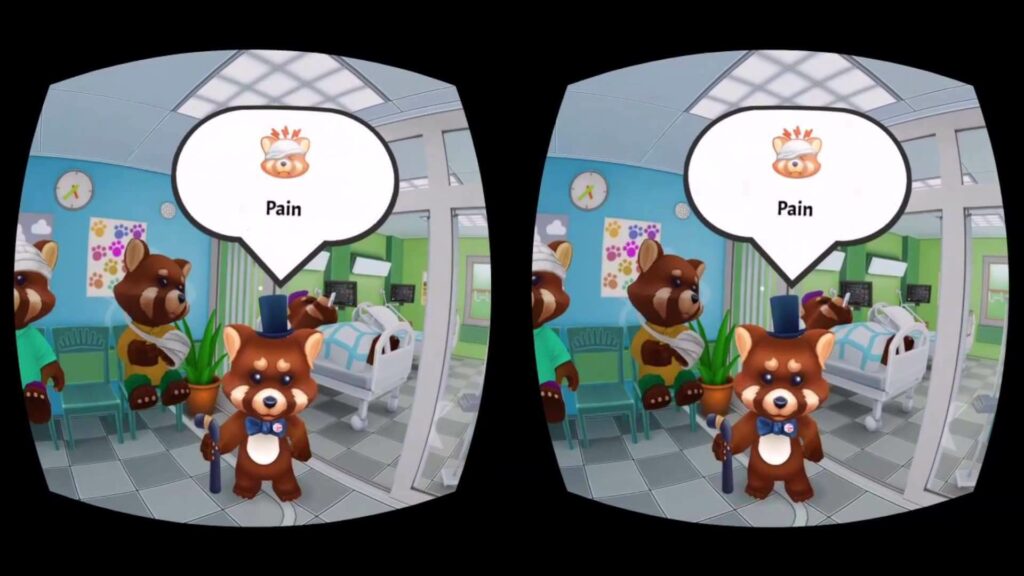 One more and more serious application for learning foreign language is Mondly Languages VR by ATi Studios. The application places a premium on real conversations with virtual characters. Mondly proposes to experience different situations travelling all over the world and to learn or improve your knowledge in 29 languages including English, French, German, Italian, Russian, Chinese, Japanese and many others. The experiencer can get the feedback on the pronunciation and advices how to enliven your vocabulary.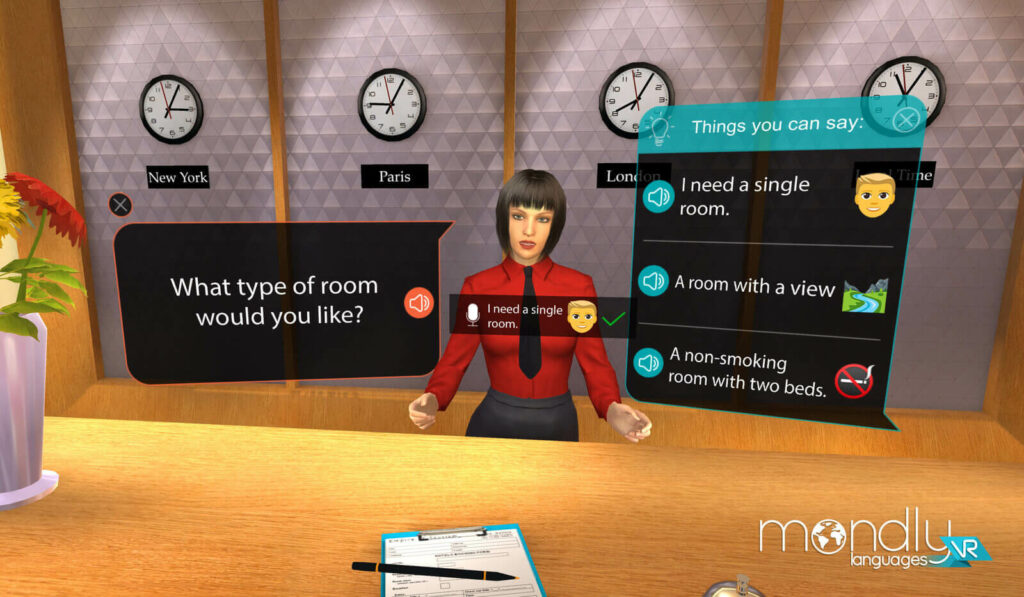 In addition, there are numerous applications that display how artists create their visualisation experiences. Although there are not always called lessons, they can be referred to this category.
Virtual Art Sessions may serve as an example. It is an experiment by Google that comprises virtual pieces of art created with Tilt Brush. The project collaborated with 6 world-famous artists: sculptor Andrea Blasich, fashion artist Katie Rogers, concept designer Harald Belker, illustration artist Seung Yul Oh, illustrator Christoph Niemann, street artists Yok and Sheryo.
Anyone can observe how pros work from any angle. The project renders high data volumes letting view everything in details. Virtual space includes artist's form, the positions of the controllers and 3D geometry data of their work.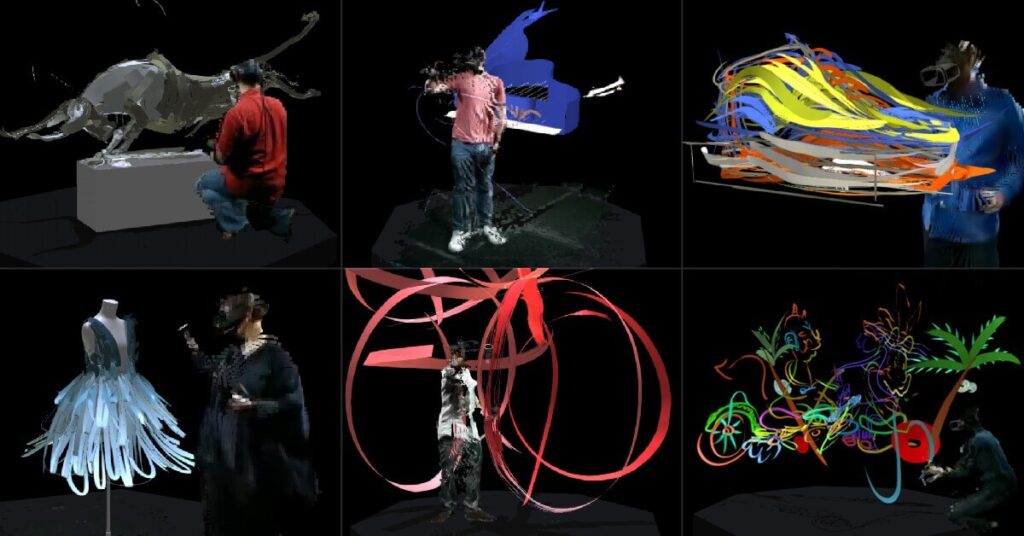 VR entertainment turns to more diversity and progress
For now, massive home use of virtual reality in entertainment is still far away. That's why VR developers and entertainment businesses try to implement the technology in social places and give the customer the opportunity to try it at low cost.
Investments both in entertainment and virtual reality are going to raise. Together these industries have a great potential for growth as more and more people are ready to pay for entertainment content, especially connected with high-end technologies.
Meanwhile, there are many social applications in VR that mix educational and entertainment purposes such as museums, galleries, music experiences, painting and even cooking lessons.
If you want to know about the most trendy applications of virtual reality in entertainment, read about virtual reality in the ensuing articles: Esports and Location Based Entertainment.