What is wearable computer?
What is wearable computer? This question is quite simple to answer. The difficulty is that today we can not always identify a computer in a wearable device. We are used to a mobile phone as a computer, but in fact the range of wearable computers is much wider now.
Wearable computer is a computer for carrying on the body, for example, on the wrist. It allows you to work, communicate, entertain right along ensuring mobility and hands-free and/or eyes-free access to the device.
A clear specification and standards for what is wearable computer are not available yet. Nevertheless, from our point of view, the fundamental attribute of wearable computer is processing unit embedded into wearable device.
In addition, there are some other features that are associated with wearable computers.
For one thing, this technology is based on permanent communication between user and device. It's possible with numerous sensor devices that are becoming more widespread. As a rule, they track individual data during all the day or even for 24 hours.
Secondly, wearable computers are perfect for managers and people that are used to face with multitasking. They don't need to stop the operations of wearable mobile computer. Also wearables enable changing, filtering and blocking the info that is irrelevant or untimely.
And thirdly, wearable computer is more personal device than laptop or smartphone as it is worn on the body, customized for the concrete person and gather individual, often confidential information.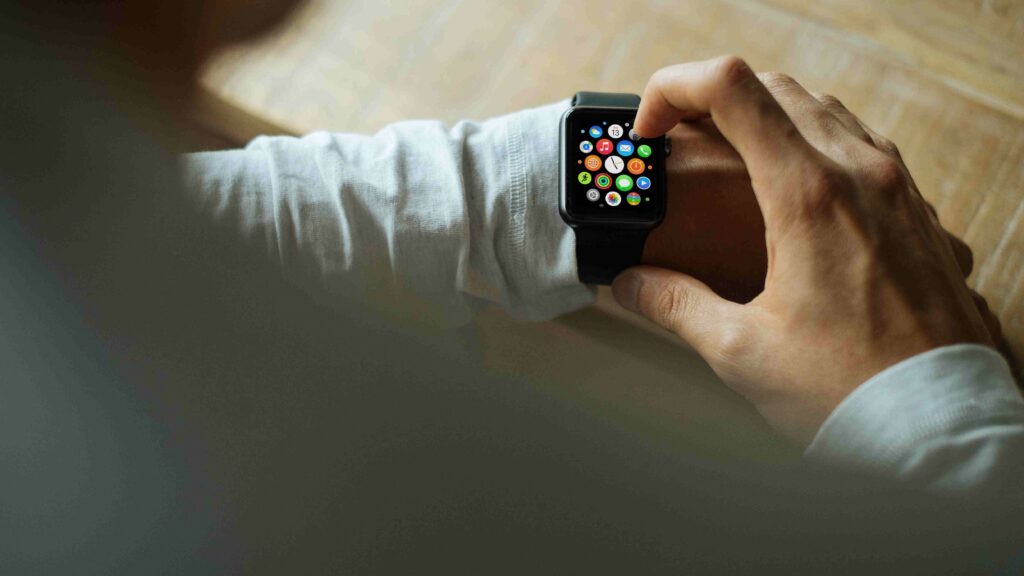 Classification of wearable computers
We won't get into the history of what is wearable computer. One need only know that the conception isn't new and it has been vigorously promoted since 1960.
Smart glasses
One of the variants of a wearable mobile computer is so-called smart glasses, the tangible model of which was first created by the American inventor Steve Mann. The image is usually projected onto the inside of the wearable computer glasses, replacing or augmenting the visual picture of the environment.
Smart glasses are produced by a number of global companies such as Google, Epson, and Vuzix. A typical device is a stereo-wearing or mono-screen mini-computer with a web camera, various sensors, Internet access, IP telephony features and other capabilities.
Perhaps, the most famous and multifunctional device is Google Glass (some of the functions are implemented via a Wi-Fi smartphone).
The entertainment opportunities of the augmented reality of such a device are ample: identifying the faces of the surrounding people and comparing them with the photos of the friends of the account on the social network; display the shortest path for motorists, etc.
Smart watches
Modern smart watch is a wrist wearable computer. Many models support third-party applications and are controlled by mobile operating systems, they can act as mobile media players. With the help of some models you can receive phone calls and answer SMS and e-mail. Some smart watches work only in pairing with the smartphone and act as a secondary screen that notifies the owner of new notifications (for example, messages on social networks, calls and reminders from the calendar).
Smart watches can include a camera, accelerometer, thermometer, barometer, compass, chronograph, calculator, mobile phone, touch screen, GPS navigator, speaker, scheduler and others. Some watches have the functionality of fitness trackers. Such models can support training programs, route tracking, heart rate sensor.
Like other computers, smart watches can collect data using external or built-in sensors. They can manage or receive data from other devices or computers.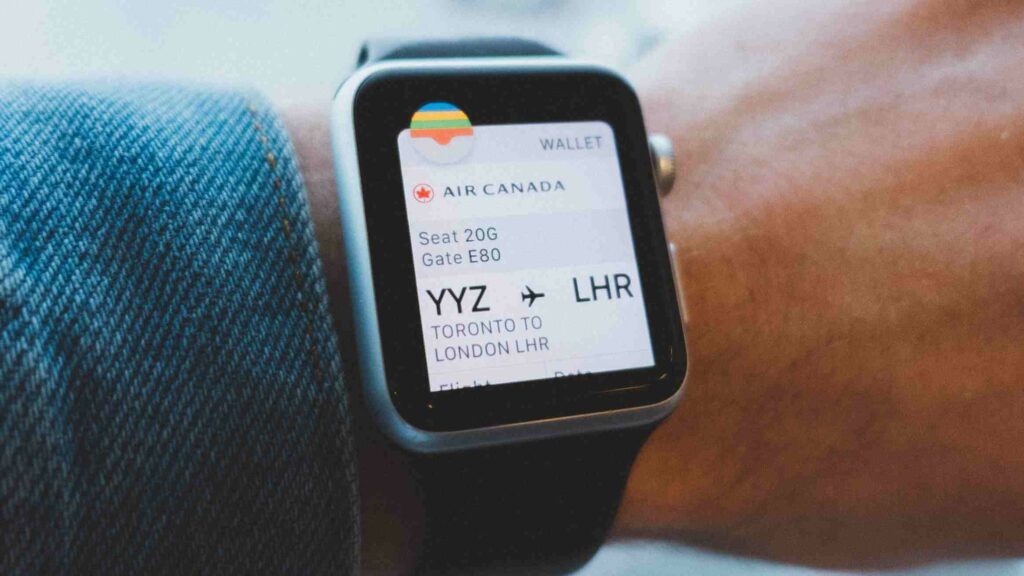 HMDs
Some vendors produce HMD with onboard operating systems, e. g. Android, enabling applications to run locally on the HMD, and eliminating the need to bind to an external device for generating video. Such head-mounted displays are sometimes called smart glasses mentioned above. By the way, there is no consensus about where is the borderline between the HMD and the smart glasses.
Smart clothing:
future of wearable computers
Smart clothing, or smart garments, is one more category of wearable computers that are gaining momentum.
Here are explicit advantages of smart garments by contrast to other wearables:
flexibility;

implemented invisible sensors;

there is no need for additional devices except clothing;

a large surface of the body for reading out data.
High-end smart garments are produced of stretching material, can be printed on a 3D printer (conductive inks), is washed without removing sensors, contains implemented sensors that track numerous types of data at once.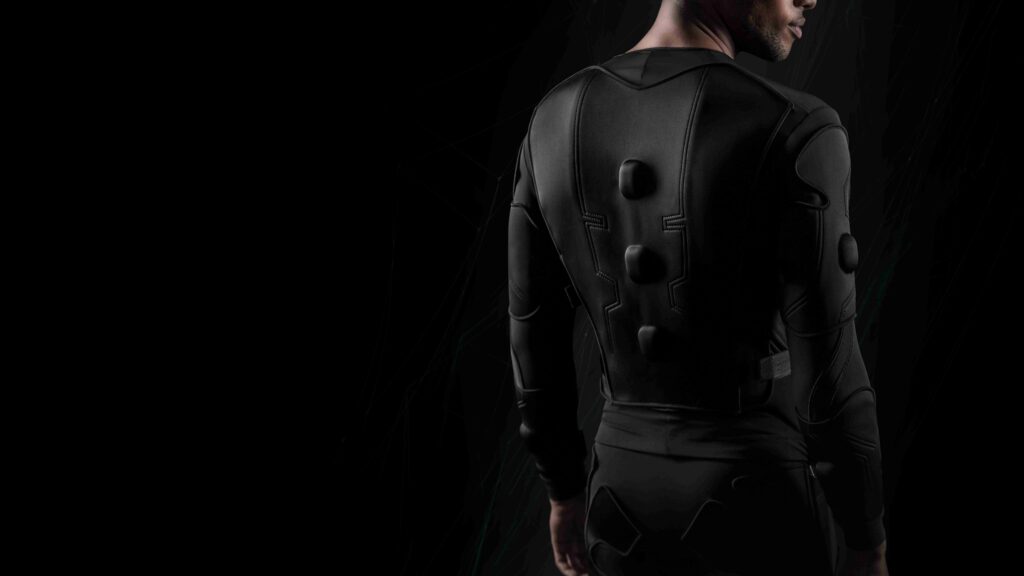 Innovative smart clothing can perceive not only disaggregated data types, but also make forecasts and adapt to the external environment without preliminary adjustment. Such clothing functions like human brain thanks to the built-in microcomputer.
TESLASUIT believes that it's smart clothes that will replace mobile phones and will become the future of wearable computing devices. There is already a plethora of different types of smart clothing by items.
Also if you are interested in more detailed info about smart clothing and want to know what place smart garments place on the playing field of the wearables market, move to our smart clothing market review.
Current trends converging on wearable computing devices
Moving from wrist wearable computer
Maybe for now wristbands and smartwatches are the most popular items among wearable computers but another trend looms on the horizon in the long term. Embedding sensors in daily things is the success factor for wearables. And the most evident item that we put on everyday basis is clothing.
A study by Forrester showed that almost 30 % of respondents want to wear devices clipped on clothing and 15 % would like it embedded. The last thing is not very common yet, but potential customers are ready for them.  
Wearable computers for fitness and healthy lifestyle is growing in popularity
People involved in sports and tracking their health are the most common consumers of wearables. Reading such types of data as ECG, EMG, temperature, breath characteristics, pace, speed, sleeping patterns, etc and analyzing them is extremely important for athletes and fitness enthusiasts.
Services and applications for fitness and health generate high profits as wearables are not only for consumers but also for healthcare systems and businesses that want to monitor activity and provide recommendations for patients and employees.
A gold mine for retailers
Soon wearable computers will know all or most of the info about our experience, habits, inclinations, and preferences. This plays into the hands of retailers that collect big data. Considering the fact that for now all wearables are connected with smartphones, collecting personalized data is a tendency that will contribute to ubiquitous and right on target advertising.
Focus on design
This is not just about UX and usability, but also about individual style. Millennials are especially convinced that devices underscore their personality. In general, the aesthetics of things, and in particular wearables, is extremely important as a key factor of a purchase decision.
Wearables are developing in this direction moving from bulkiness and producibility and turning into light everyday devices. Moreover, wearable computing devices are more likely to take form of fashionable clothing and jewelry.
Wearables will direct a drive to IoT
Wearable computers track different parameters of the environment, record them and analyze with the help of AI. Wearables are particularly apt for environmental management as they are always with users and are most likely to replace smartphones for this function.
Wearables and cloud computing
More and more companies are moving their entire data centers to the cloud. This process makes the data integration easier not only for consumers but also for cloud-based data centers that are able to collect, track, and collate enterprise data automatically.
The collected data may be used to support the performance of individuals or teams, forecast timeframe for future business projects, and to encourage the achievement of high-level employees.
So, hope now you have a more holistic view of what is wearable computer. In case if you are really interested in the world if wearables, advise profound reading of wearables market overview.