Earlier TESLASUIT team created own wearables classification (with infographics) to shed light on the diversity of wearables. As of now, wearables market is highly fast-moving. The garments are taking their share from the phones and increasingly resemble computers. In the long view, this market is very promising, that's it is worth paying attention even as we speak.
Wearables market forecast: revenue and shipments
Wearables, or wearable technology, are electronic devices with embedded sensors that can receive data about the human who wears them or/and about surroundings. Wearables work wirelessly or by dint of other devices like smartphone or tablet. They send information to the processing unit, which can be inbuilt or located on an external server, and processed information get to the user.
Wearables as catalyst of related markets' development
Appeared in the 1970s wearable technology has grown to the huge industry which serves many other markets. Primarily, wearables gather immense volume of data. Actually wearables market is becoming a new source of big data. Thereby it attracts the attention of multinational corporations and companies which сover the entire value chain.
70 % of multinational corporations will invest in wearable fitness-tracking devices in 2017
Gartner forecast
Wearables market revenue
IDTechEx predicts wearables market size will reach about $150bn in 2026. Revenues are forecasted to grow rapidly by 23% from 2018 until 2023 and to compose over $110bn by 2023.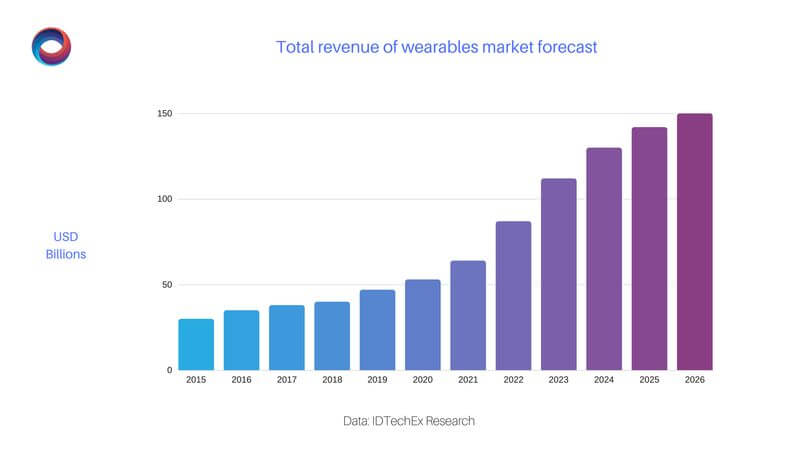 FBIC Retail and Technology in "The Wearables Report 2016" associates this 5-year trend (from 2018 until 2023) with two main factors.
First of them is the appearance of the second generation of wearables. Whilst the first generation is just complement devices to smartphones, the second one is supposed to embrace devices, сan interact with each other and connect to the Internet of Things independently.
The second factor is the supply increase at smart clothing segment, sportswear in particular. World famous brands such as Google, Nike and Levi's will propose a wider range of products to the market.
According to IDTechEx Research, next 3 years a more gradual increase of wearables producers' revenues is expected.
Wearables market shipments
According to International Data Corporation (IDC), worldwide shipments of wearables reached 102.4 million in 2016. The previous year this number was at 79 million. As we can see, annual growth amounted to nearly 30%.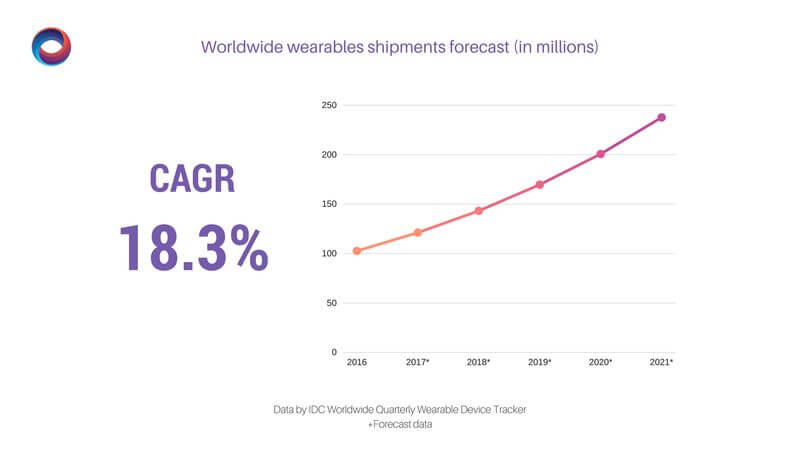 IDC predicts CAGR (compound annual growth rate) for wearable devices market of 18.3% till 2021 year. The number of shipped devices is expected to reach 237.5 million by this time.
As forecasted by Ramon T. Llamas, research manager for IDC's Wearables program, such stable growth will be caused by wearables cellular connectivity and applications.
Foremost, wearable devices will be getting more and more autonomous and function without reference to smartphones. Nevertheless, making calls will not be wearables' main function. The main value will be the ability to receive, transmit data and get feedback using the only device.
Secondly, a wide variety of applications will drive wearables market, as apps make devices more useful and vice versa. Today it is not enough for users to monitor their health status and workout statistics. They want to manage IoT devices, to get news, weather forecast, social media updates through wearables. All of the above paired with cellular connectivity will ensure a 20.3% CAGR up to 2020.
Narrow niches' growth is expected at wearables market
Significant interest by big companies will entail acceleration of research and development and сonsequently new products' emergence. At the same time, there is a trend of producers to go into the narrow niches. As a result wearables market will become even more heterogeneous.
Watches
Presently the most widespread wearable devices are smart watches and fitness trackers, but the abandonment rate of smartwatches is 29% and 30% for fitness trackers as Gartner reports. Users name 3 main reasons why they are less inclined to purchase such devices anymore. Namely, their utility is doubtful, people start to get bored of their devices or they just break.
One more intricacy with watches is that devices are too similar to each other and are hard to distinguish in an almost saturated market.
So, smartwatches and fitness trackers' segments are expected to grow slower than earlier, though watches' market share is predicted to stay the biggest on wearables market according to IDC forecast.
Watches market share was 48.1% in 2016 and is forecasted to capture 64% in 2021. As for shipments, this segment will stay top wearable product.
Primarily it's related to a wide range of devices from multiple vendors and reasonable prices as a consequence of competition between them.
Watches share became so large that independent sub-segments have begun to stand out. Such niches are kids' watches, fashion watches, athletic and luxury watches.
There is another feature in this market segment. Although smartwatсhes attract great interest now, watches share growth will be ensured through basic watches. They differ from smartwatches by the inability to support third-party applications. Famous fashion brands, such as Nike and Levi's, and сompanies that launch product solutions for sports and healthy lifestyles will guarantee this market share growth.
Wristbands
Wristbands have led the wearables market for a very long time. As reported by IDC Worldwide Quarterly Wearable Device Tracker, wristbands occupied almost half of the market, 47.6% in 2016 to be precise. This was due to the simplicity of the devices and their relatively low prices, which were offered by such market players as Xiaomi and Fitbit.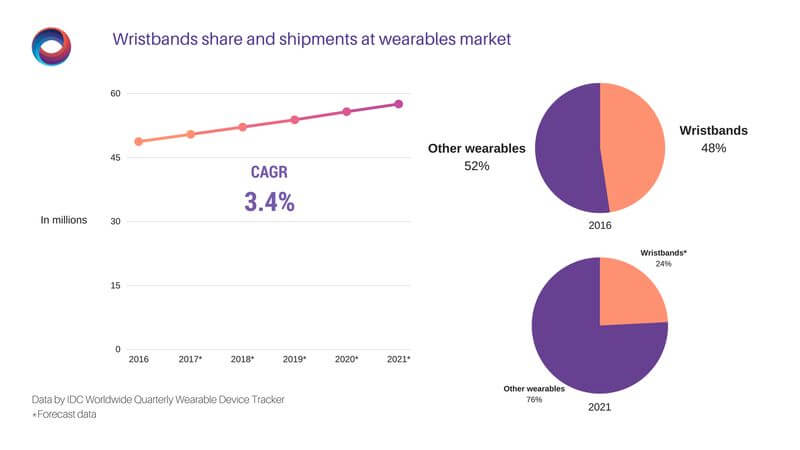 Wristbands market share is predicted to gradually decline to 24.2% in 2021. Wherein CAGR (Compound Annual Growth Rate) is forecasted to be the lowest on the wearables market from 2016 till 2021 and will compose 3.4%.
Such a rapid fall in market share is explained by intramarket competition emanated from the watches segment. Most of the watch manufacturers implement main fitness trackers' functions in their devices.
Earwear
Earwear devices took the smallest 0.7% share at wearables market with 0.7 million shipments in 2016. IDC expects hearables to grow fast, at about 43% annually, and to gain 1,8% share with 4.2 million shipments in 2021.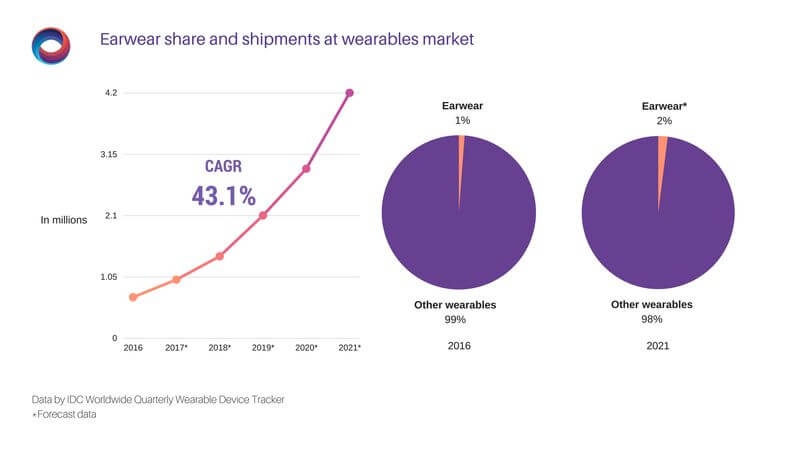 The perspective of earwear appliances is especially promising in the b2b market as they are supposed to replace or supplement existing mobile computers, for agricultural and factory workers in particular. And although this segment is rather narrow, approximately 9% of all wearables shipments in 2020, it will account for more than 40% of aggregated wearables market revenue. Such profitability is associated with high prices for specialized devices.
The cost reduction for devices, more functional models and the development of servicing applications will move this segment forward.
Smart clothing
Smart clothing market is at the stage of its origin. In 2016 clothing occupied only 1.3% of wearables market with 1.3 million devices shipped.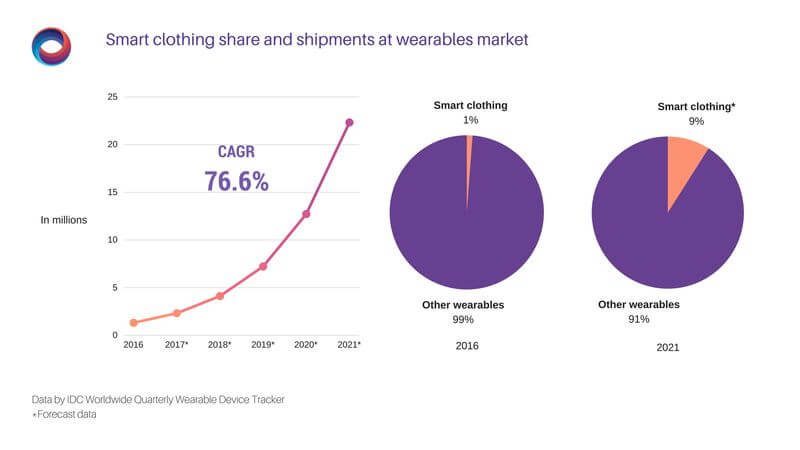 According to IDC Mobile Device Trackers, the share of smart clothing will increase up to 9.4% and shipments will reach 22.3 million garments in 2021. The compound annual growth rate will compose 76.6% from 2016 to 2021. Such a CAGR is the highest on the market.
The collaboration of fitness and fashion and high-tech companies is the main driver of this segment's dynamic development. Clothing has a focus on consumers, accumulating and processing data.
Other wearables
There are numerous wearable devices that are less common, for example, helmets, hearables, body sensors or clip-on devices. The number of shipped devices in this category will decrease slightly from in 2.4 million in 2016 to 1.5 million in 2021. As IDC reported, a specific gravity of this segment in total wearables market size will have a 1.8% decrease and form 0.6% in 2021.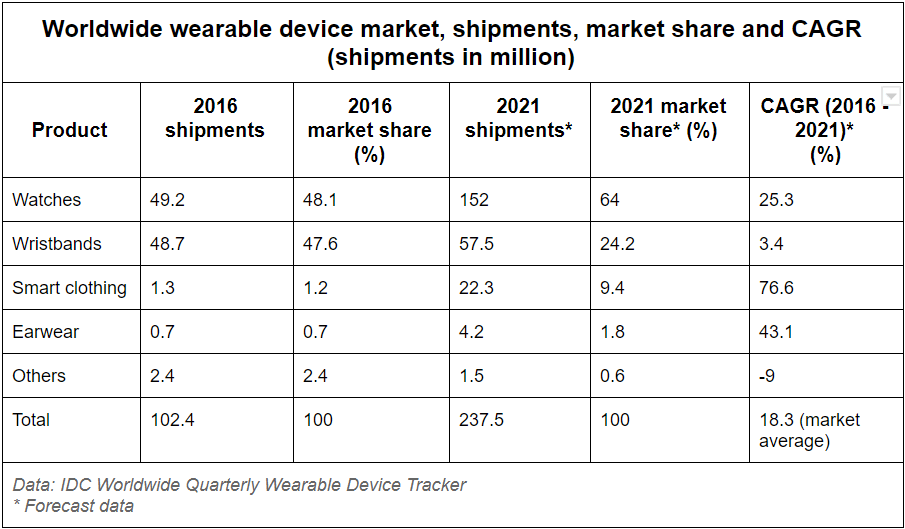 Despite the fact that the 5-year annual decline of this market segment is expected at approximately 9%, some companies will certainly enter this segment and offer original innovative solutions to the market. Wearables market is very fast-changing and it's quite possible for some wearable product from this category to secede into independent market share.
North America has the biggest wearables market share. Europe shows the greatest potential for growth
As it was reported in Cisco Global Mobile Data Traffic Forecast, the quantity of wearable devices reached 97 million in 2015 globally. Most of the wearables are concentrated in North America and Asia-Pacific region. Together they cover 70% of global market. North America's share is 40% and Asia-Pacific region captured a little bit more than 31%. Europe takes the third place with approximately 23% share.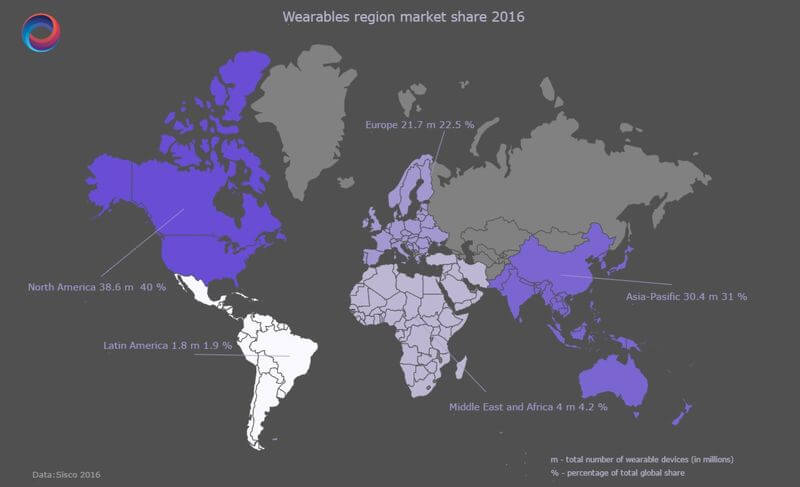 Regional distribution of wearable devices in 2015
In more detail, regional distribution of wearables is the following. The number of devices is the biggest in North America with almost 39 million devices. Asia-Pacific region took the second place with 30 million. Summing up the devices in Western, Central and Eastern Europe, this region will take the third place and compose approximately 22 million. And finally, Latin America and the Middle East and Africa occupy little parts of the market, 2 and 4 million devices, respectively.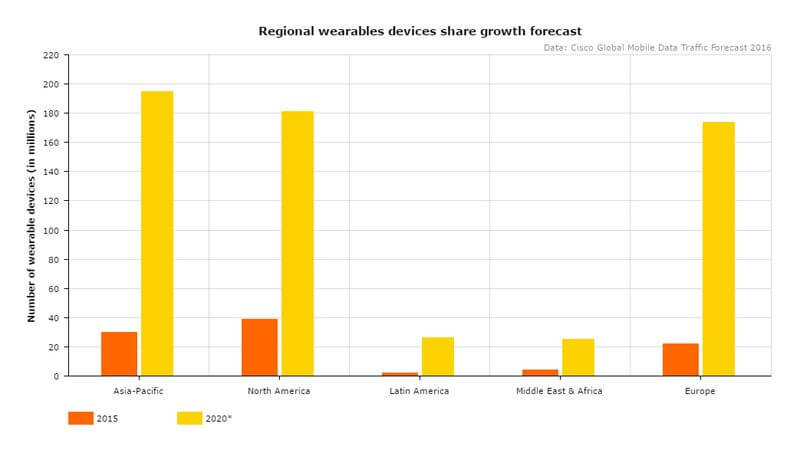 Regional distribution of wearable devices forecast in 2020
CISCO estimates that there will be 601 million wearable devices in the world by 2020. As experts predict, the market will represent 44% CAGR, increasing five times сompared with the base 2015.
As is forecasted by Cisco, Europe shows the greatest potential for the growth of wearables' amount. The number of devices is predicted to increase almost 8 times. Asia-Pacific region and North America are also expected to demonstrate an expansion of smart garments. The increase will compound 650 % and 464 %, respectively. Other regions' growth is not so significant as they occupy smaller market shares. The quantity of smart garments in Latin America will increase from 2 million up to 26 million, according to Cisco. As for the Middle East and Africa, a number of smart garments in this region will increase almost 6 times, from 4 to 25 million.
Regional wearables market shares
Market shares of regions are forecasted to change in some points.

The main reshuffle is expected between North America and Asia-Pacific region. The share of North America will decrease by 10% and compose 30% of global market. Asia-Pacific region won't demonstrate significant growth, but its share will gain about 32% and will be the biggest one to 2020.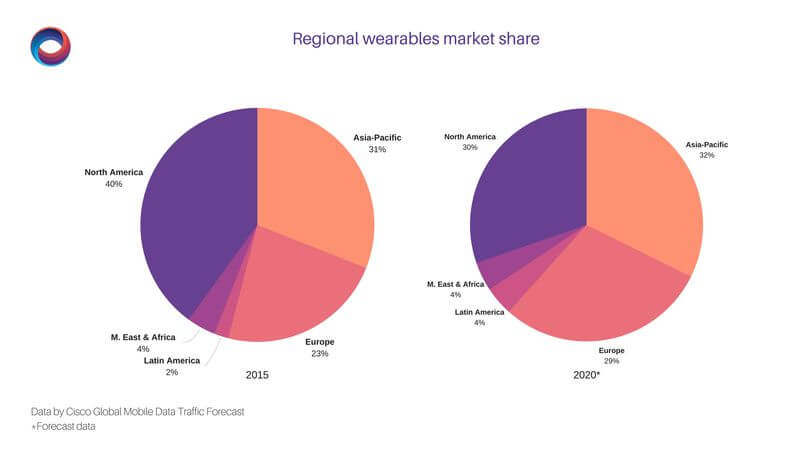 Western Europe paired with Central and Eastern Europe will show the most noticeable growth at the level of 6.4%. CISCO predicts Europe to amount to almost a third of the wearables market (28.9%), сoming very close to North America.
Despite a significant increase in the number of devices, other regions' portions won't change substantially. For example, Latin America market share is forecasted to slightly rise by 2.4% and reach 4.3%.
Main drivers of wearables market
Although the second generation of wearables starts to spread, the number of wearable devices will grow especially fast in the regions where there is plenty of smartphone users.
Wearable devices are particularly applicable in the field of sports, healthy lifestyles and medicine. Elderly people will become one of the principal target audience segment.
Furthermore, solid data networks seem to cause an increase in wearable devices. With their help, it will be possible to manage IoT. Numerous mobile and fixed devices such as vending machines, cars, tablets, and laptops will be connected to each other and interact. To implement this on a serious scale universal connection platform is needed. 5G networks are designed to provide such a platform. 5G is forecasted to be widely available by 2020.
Wearables market top players
According to IDC Worldwide Quarterly Wearable Device, Fitbit, Xiaomi, Apple, Garmin and Samsung as in 2015, remained key players in the market in 2016.
The market leader, Fitbit, demonstrated 2.4% growth in 2016. Compared with its direct competitors, the figure looks rather gentle. First of all, this is due to the fact that Fitbit is largely aimed at American fitness trackers market, which is close to its saturation. Although foreign markets provided company's growth, the competitors with low-cost strategy whipped away Fitbit's market share. It reduced from 27 % in 2015 to 22 % in 2016.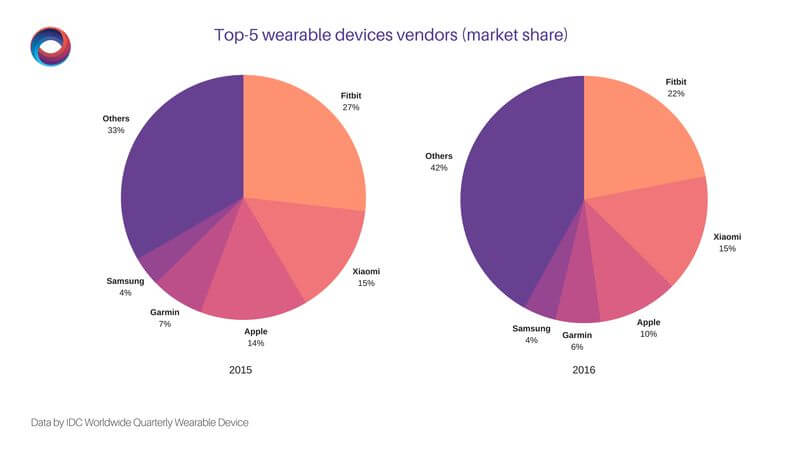 Xiaomi reduced the gap from the leader, increasing its market share a little bit up to 15.4 %. The company chose a low-cost strategy, but gradually sets a higher but still moderate price for its new devices. In 2016 Xiaomi managed to ship 4 million devices more than in the previous year demonstrating a 31% shipment growth.
The last quarter of 2016 was the most successful for Apple on the wearables market. The company flexibly reacted to the customers' needs and presented Apple Watch Series 2 with renewed interface and GPS implemented at a lower entry price. However, in general, Apple showed shipments decrease. In particular, the company shipped 10.7 million wearable devices in 2016, just as in 2015 this figure was 11.6 million.
Garmin reduced its market share from 7 % up to 5.9 %. Herewith, it was able to increase average selling price for its devices, as the target audience is starting to purchase more sophisticated and expensive fitness trackers and smartwatches. In 2016 the company sold 6.1 million wearable devices, what is 5.4 % more than the previous year's level.
Samsung showed the greatest annual growth in 2016 amounting to 38.6 %. The previous year Samsung has proposed two new wearables, Gear S3 Classic and Frontier. The company remains the only player that offers cellular-enabled devices. This fact helps watches' promotion through telecommunications companies. Apart from watches, Samsung produces Gear Fit 2 and Icon X fitness earbuds, though sales of these devices were lower than predicted.

Consumer view on wearables
What is still remarkable, is that the market share of other companies increased from 33.4 % up to 42 %. It's possible that the demand for new wearable devices will provoke the emergence of new strong players to the market.
According to GMI APAC Wearable Technology Survey of 2015, 86% of the respondents show the greatest interest in smartwatches. It is natural as smartwatches market share is the biggest and will increase up to 2021 at least. Simultaneously 24% of respondents are owners of smartwatches.
The second place is taken by glasses: 69% of people in Asia Pacific region are aware of this kind of wearables. More than half of the respondents are informed about wristbands segment of the market. Fewer people are aware of headgears, jewelry, and footwear, 49%, 32% and 32%, respectively. Smart clothing, or e-textiles, is a relatively new market segment. So, only 20% respondents in Asia Pacific region heard about it.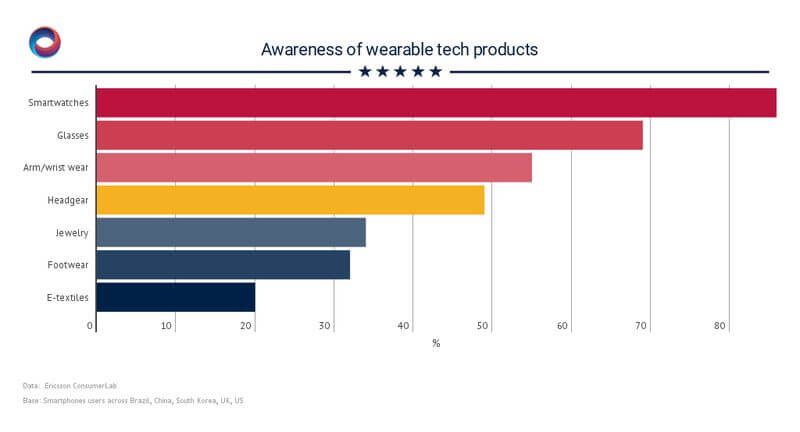 As Ericsson ConsumerLab reported, the number of wearables owners doubled during the period from 2015 to 2016. Their share rose from 14% to 30% over this period. The study was carried out with a coverage of 5000 smartphone users from 5 markets: USA, UK, China, South Korea and Brazil. Half of them are wearable users.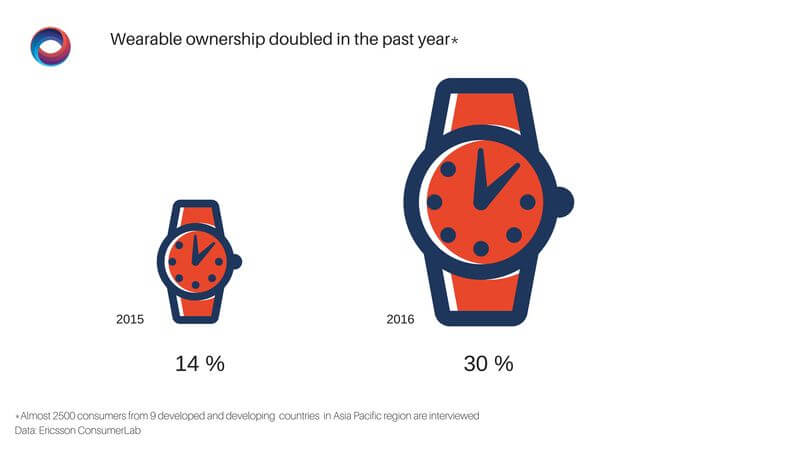 It is noteworthy that according to Ericsson ConsumerLab survey, 6 out of 10 smartphone users are sure that wearables will be applicable not only to health and wellness spheres.
One of three smartphone users predicts that he or she will own at least 5 wearables after 2020.
Ericsson ConsumerLab
It is possible that in the long run wearable devices will replace many habitual for us portable devices such as mobile phones, tablets, and other gadgets.
According to Ericsson ConsumerLab, 43% of respondents consider wearables to replace smartphones. In particular, 40% of smartwatch owners have already started to use their smartphones less. A smartphone may become just a minor display in addition to a wearable device because the latter will get more sophisticated.
Approximately half of respondents are sure that watches, clocks, glucose, and blood pressure monitoring meters, car and house keys, navigation devices will be substituted by wearable appliances.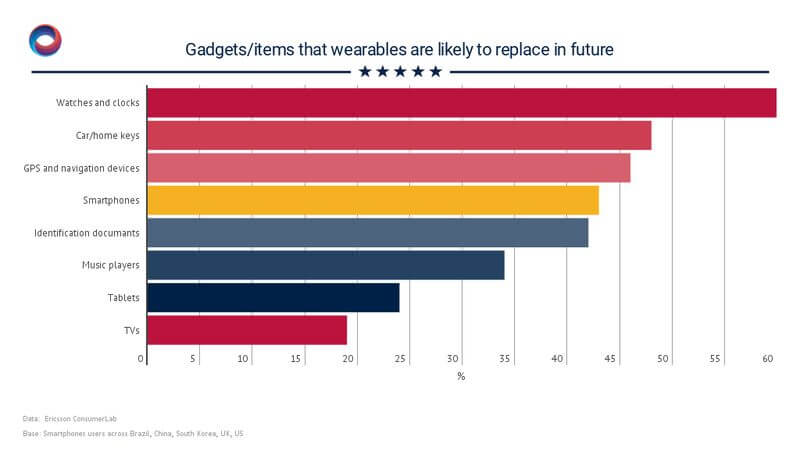 Generally, 74% of consumers believe numerous wearables and sensors will assist them to manage other devices and other physical objects of the environment.
Key takeaways
The wearables market revenue is forecasted to grow more than 4 times from 2016 to 2026 and reach $150bn. Shipments are expected to increase more than twice from 2016 and comprise 237.5 million by 2021.
Main prerequisites for such expansion are the appearance of the second generation of wearables and a supply increase in smart clothing segment. Wearable devices are getting smarter and becoming autonomic from smartphones. This trend will lead to the fact that wearables will replace many other portable devices and become key hardware to manage IoT.
Segments
Watches' market share is forecasted to capture 64% in 2021. This segment will remain top wearable product, but its CAGR will slow down.
Wristbands occupied almost half of the market in 2016. Wristbands market share will gradually decline to the quarter of the market by 2021. It's CAGR will be the slowest in the market. The market segment is already saturated and will grow within limits because of the greater variety of other wearables.
Earwear, the smallest segment at the moment, attracts more attention, as the main revenues are concentrated here. This is due to the fact that eyewear devices have a huge potential primarily in the b2b market. IDC expects earwear to grow fast, at about 43% annually till 2021.
Smart clothing market will go up 76.6% from 2016 till 2021. Such a CAGR is the highest at the wearables market. This market share will approach 10% mark. More companies are ready to invest in this part of the market thanks to the huge amount of data that smart clothes can supply.
Wearables geography
The largest number of wearables is now concentrated in North America – 40% of devices. By 2020 this figure will decrease by about 10% and Asia-Pacific region will overtake North America.
The fastest growing market of wearables is Europe. Western Europe with Central and Eastern Europe will show the most noticeable, 6.4% growth in 2020 to the base 2015. CISCO predicts Europe to take about a third of the wearables market (28.9%), approaching North America.
The number of wearable devices is expected to increase notably quickly in the areas where there is plenty of smartphone users.
Top players
Fitbit, Xiaomi, Apple, Garmin, Samsung are key companies at the market in 2016.
Xiaomi showed a very high annual growth of 31%, although Fitbit still held 22% of the market in 2016.
Apple's annual shipments declined, and Samsung demonstrated the largest average annual growth, which comprised 38.6%.
The share of other companies increased nearly 10%. So, perhaps there will be rearrangements in the highest echelon of wearables market in the short term.