Finding more solutions that can help reduce anxiety has become increasingly important as people become more aware of the impact it can have on mental health. A number of studies have shown that haptic technology in a form of electrical muscle stimulation (EMS), together with transcutaneous electrical nerve stimulation (TENS), could potentially be used to reduce the symptoms of anxiety.
There is no doubt that much more research should be carried out into this topic and the effect that haptic technology can have on people's mental health before it could be used for the treatment. For now, though, we'll focus on an exciting project from the University of Siegen, Germany, where the researchers are working on new forms of therapy in the area of ​​anxiety disorders and addictions.
Research Concept
In August 2020, the Professorship of Medical Informatics and Microsystem Design at the University of Siegen pooled the research in the areas of virtual reality (VR) and augmented reality (AR) by founding the "Medic@l XR Siegen" working group. The team develops innovative solutions in psychotherapy using augmented reality and haptics in everyday medical practice.
The research team has carried out some very interesting research using the full-body haptic suit that shows the potential of haptic technologies for treating anxiety. Think of a virtual living room with a sofa and a table. Now imagine a patient stretching out their arm to see a spider moving across it. The initial shock is quickly replaced by the understanding that the spider isn't real. Later, however, the patient can feel an unexpected sensation through the arm. It's the spider moving.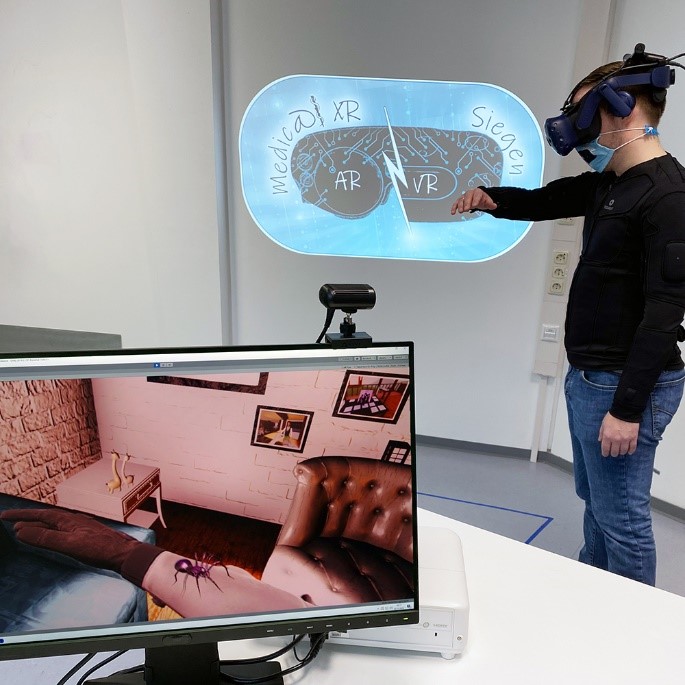 The unique scenario described above is enhanced by the tactile feedback of the TESLASUIT, using EMS and TENS technologies to create the sensation of a spider moving. This type of research design is intended to empower patients to confront their fears and deal with them.
The young scientists and psychotherapists who are part of the research collaboration are excited about a wide range of new possibilities the Teslasuit's technology could add to the project.
Conclusion
In a rapidly changing world, technologies such as virtual reality and haptic feedback can play an enormous role in developing new forms of therapy in the area of ​​anxiety disorders and addictions. At the moment, the TESLASUIT, with its EMS and TENS technologies, shows a great potential to be used for simulation of disorder-relevant situations, such as claustrophobia tightness. Under the guidance of a therapist, patients can learn to examine and deal with their specific fears.
Now is the time to leave a lasting impact on the academic and research landscape. With our state-of-the-art technology, expertise, and committed support, you can shape new dimensions of learning, research, and innovation in this rapidly evolving digital age. Become a part of our Academic Program.