As we start thinking of the summer holidays and having some well-deserved rest, we would like to take this opportunity to share a snapshot of just some of the recent events we have attended and announce some exciting news from TESLASUIT HQ.
Let start with the news:
Summer Offer
As further requests from studios and developers continue to flood in for our technology and software, we thought it high time to create a very special 'DK Starter Edition'.
A special light version of our suit technology designed specifically for haptic animation and motion-capture functionality.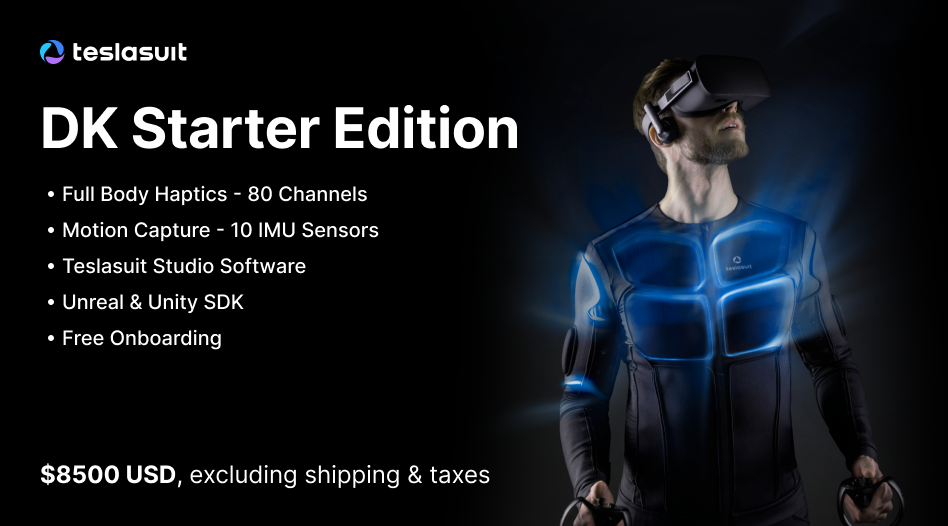 As the demand for the use of haptics and motion-capture for both gaming and enterprise usage is on the increase, this is your chance to get your hands on our award-winning technology at a fraction of the cost, to start building your next blockbuster game, training application or your metaverse project.
Priced at $8,500 USD, excluding shipping and taxes.
For more information contact us at info@teslasuit.io.
Teslasuit and a New Dimension of You
We have launched a new website together with a fresh rebrand, designed to mark a new dimension in our scientific and technological development.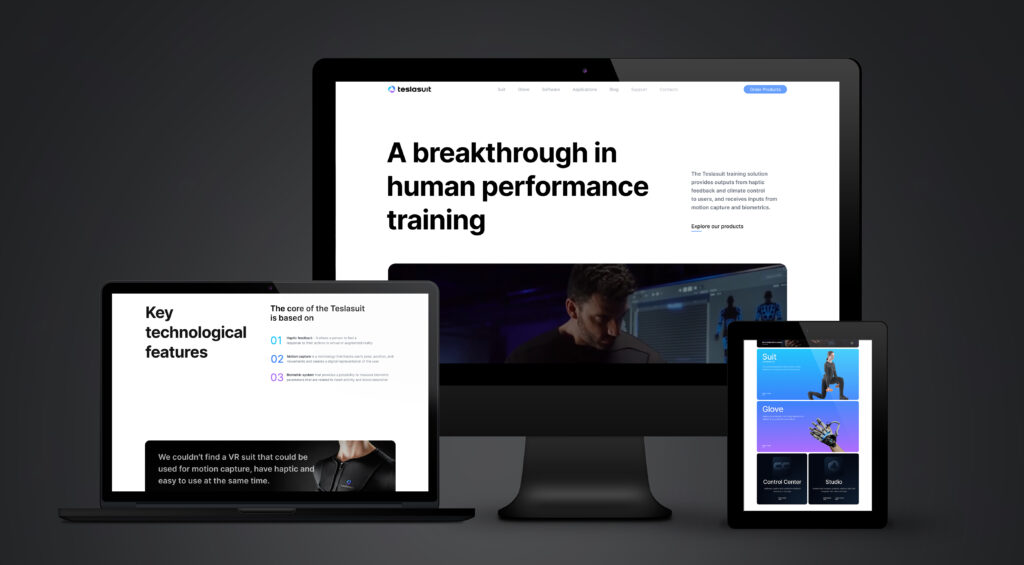 The new Teslasuit logo, based on an electric impulse, is formed of three mutual and dynamic parts, representing the technology's three key applications: professional training, research and rehabilitation, and development.
We look forward to releasing our new upcoming products and software developments that will establish exciting new use-cases to help drive humankind towards a better future.
USA Partnership Trip
Our team travelled to the USA to explore some new partnerships. First on our list was a trip to meet the team at the world-renowned Mayo Clinic in Rochester Minnesota. We had the privilege of spending an entire day sharing our medical use-cases and ideating on how our technology can help with their training requirements.
We were also asked to attend a meeting at the NIKE headquarters with our US partner Virtual Supply. We had a chance to share with the senior team how our technology and software can be used to amplify both sports performance training and in rehabilitation.
With Virtual Supply, we also attended a very exciting meeting with GameStop to discuss partnership and collaboration ideas; we can't share too much on this just yet, but hope to be announcing some exciting news soon.
Our final stop was to visit the team at HSS, Hospital for Special Surgery, to share our most recent software and technology updates as we continue to work together on several innovative medical applications.
Teslasuit events' roundup
DSET 2022
DSET was the first in the list of the summer events we were invited to exhibit. DSET is an event focused on synthetic training for government services. We were joined by our partners AVRT to showcase how our technology can be used in various training scenarios. We had a lot of interest from the audience attending and delivered many live demos during the event.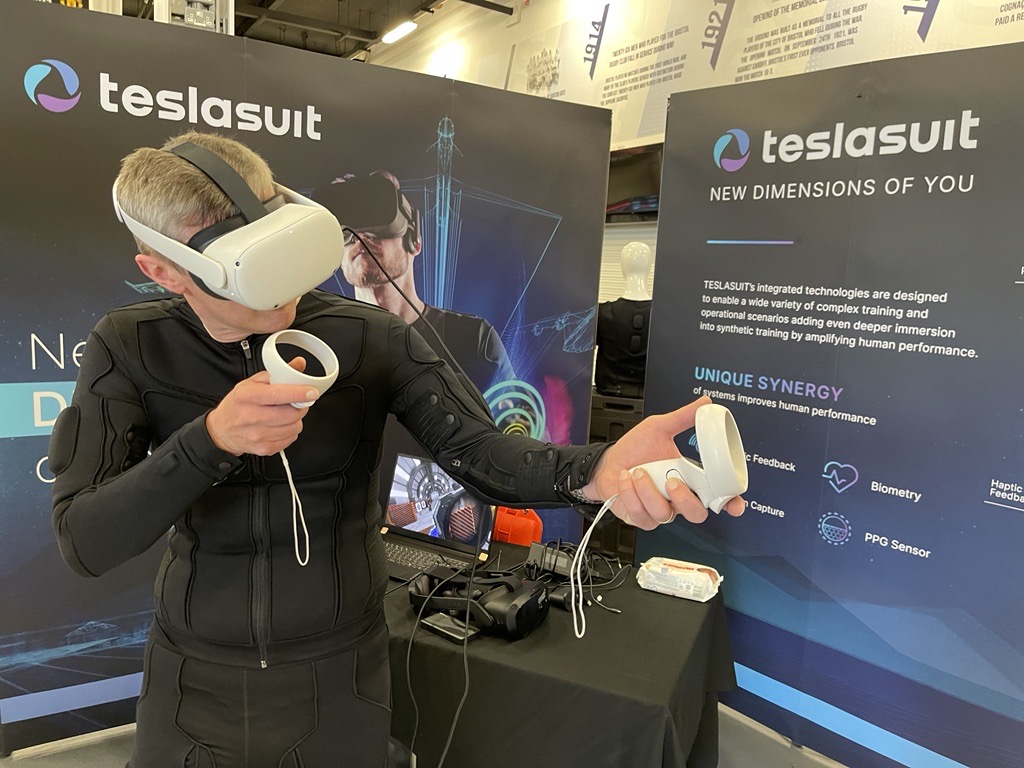 Viva Technology 2022
After DSET, we packed up our kit and headed straight to Paris to attend VivaTech which is Europe's largest event focusing on innovation and technology. As a Discovery exhibitor we showcased the Teslaglove on the Discovery stage and delivered numerous demos to a very captive audience.
A fantastic opportunity to meet with many luxury brands on the cutting edge of tech innovation to explore collaborations. We are now working on some very exciting brand activation concepts and hope to share more with you in the coming months.
GoodWood Festival of Speed – Future Lab
We were honored to be invited to exhibit at the Goodwood Festival of Speed, as part of their ever-growing FutureLab pavilion. Over four days we had the chance to demo our technology to both members of the public and numerous leaders in the motorsport and technology space.
Throughout the event, we had some very important guests visit our stand, including British astronaut Tim Peake, world-renowned futurist and influencer Bernard Marr, gadget reviewer Jon Devo, and even Hollywood actor Josh Harnett. Even the Duchess of Richmond came to try out the Teslaglove!
Our in-house development team has been working hard behind the scenes, creating some very exciting new gaming experiences, despite our technology being aimed at the enterprise and professional training market. We simply had way too many requests for TESLASUIT compatible games to ignore!
We also spent some time with our Motorsport Brand Ambassador, the amazing Jem Hepworth. She had the chance to try out our new Teslasglove for the first time, and show us her incredible driving skills in our data-driven haptic racing simulation FeelTheDrive.
A very big thanks to the team at HTC for supporting us throughout the event; we were using the very latest Focus 3 headsets that allowed us to run our many gaming and training demos.
TESLASUIT Experience: Jeddah Season Festival 2022
For the first time ever, we created a location-based gaming experience with event organizer GAG Events, that took place in Saudi Arabia.
A futuristic TESLASUIT gaming area was built within the XReality VR experience activation. An opportunity for members of the public to try out our technology in a gaming environment, complemented by some very cool games that we built especially for this festival.
The event took place over 45 days during the Jeddah season and our own team helped deliver countless gaming demos every day. This was a great example of how our technology can be applied to gaming, and the start of many more exciting projects to come.
MeGa Health Jam – Supported by Teslasuit & Virtual Supply
Along with our partners Virtual Supply, we supported the MeGa Health Jam Healthcare hackathon, that took place in Central Florida in June 2022 at the Tech Grove facility. A collaborative innovation event working closely with the healthcare and gaming technology industries.
Participants of this game jam had just 48 hours to create concepts able to improve healthcare using gaming technology and Teslasuit.
These game jams are important to us, as we get to understand how our technology can be applied to various new use cases. We will share shortly the results of this across our social channels.
Thank you for reading our newsletter. We look forward to sharing even more news with you soon.
Paul Nickeas
VP of Global Partnerships