The gaming industry is currently at its mature stage. Smartphones, augmented reality and virtual reality are gradually being included into games. We have already written a lot about VR gaming and related technologies. AR games have just started to intensively develop.
Promising prospects of augmented reality in gaming industry could be predicted with the emergence of Ingress in 2012.
It is a multiplayer online AR game, created by Niantic Labs (Google) for Android and iOS devices. The purpose of the game is capturing so-called virtual game portals near the real world sightseeing while the gamer is moving with a mobile device.
Later, in 2016, Pokémon Go took over the baton. The game quickly became a global phenomenon and was one of the most commonly used mobile applications. It was reported that more than 100 million people around the world downloaded it.
In November 2017 it became known that Niantic is collaborating with Warner Bros. and Portkey Games to release new AR project "Harry Potter: Wizards Unite". As The Wall Street Journal reports, Niantic raised $200 million in a Series B round. The previous Series A resulted in $30 million.
John Hanke, founder and CEO of Niantic claimed: "The beloved Harry Potter stories have captured imaginations worldwide for more than 20 years and soon we'll turn the fantasy into augmented reality, allowing fans and their friends to become wizards and witches." The release of "Harry Potter: Wizards Unite" is assigned to 2018.
AR
gaming market growth forecast
As early as 2016 AR was expected to soar and beat VR, as AR glasses became popular then. Hololens, Meta 2 and Magic Leap are the key players in this market. Nevertheless, none of them changed the situation fundamentally. AR glasses remains a budding segment of XR.
Magic Leap raised a little bit less than 20% of all AR/VR investments in 2017. Apple looks like to enter this market segment, as patents numerous inventions of AR technology and headhunts brains from the industry. The sphere of augmented reality is likely to show exponential growth, as companies getting ready for a breakthrough, preparing their product versions carefully.
AR gaming is predicted to take a significant share of the gaming market, reaching $285 billion by 2023, growing at a CAGR of 153 % during the forecast period from 2017 to 2023, according to Research and Markets.
Features of
augmented reality
gaming
AR games usually differ from most other popular multiplayer games in that they force players to move around the real world, to walk, travel and visit new places. It is opposed to spending time sitting at the computer at home.
After all, most of the AR game actions are performed at the portals (Ingress) or in random places, selected by developers (Pokémon Go). It's necessary to reach these locations to progress. At the same time, as the player's level increases, he or she needs to visit more and more new places, as the rewards required to reach higher levels are given, among other things, for the number of unique portals visited and missions completed.
In addition, at high levels, the game encourages cooperation between players, encouraging joint activities and walks. Experienced players are stocked with external batteries for their mobile devices to devote more time to the game.
Limitations of AR games
Nevertheless, there are some limitations of AR games.
The absence of haptic feedback
More significant limitation to overcome in AR is the absence of touch and haptic feedback in general. The virtual objects in AR are still remain impossible to feel. Such a state of things establishes clear blue water between augmented reality and reality. A gamer is forced to refocus the attention of the display to what's happening around.
Predictability of gameplay
Another drawback is that the game becomes predictable over time and the user acts more automatically than creatively. This is a problem not only of games in augmented reality but of the entire gaming industry.
Insufficient level of AI development
Artificial intelligence in gaming is destined for automatic planning or decision making in gaming systems. Such type of AI needs the input data provided by computer vision systems, acting as a video sensor and providing high-level information about the environment and the gamer. For now, such input data is the progress of a player, i.e. how quickly he or she takes bearings in a new gaming environment, how many points receives, etc.
Gaming AI shouldn't be invincible, as nobody of gamers wants to lose at once time after time. The reverse situation is when the gamer wins too easily, without effort, deprives the game of excitement. Сonsequently, a gamer gets bored. There is a fine line between these two extremes.
That's why game developers are forced to implement cheating AI with so-called rubber banding. It means that if AI gamer lags far behind the main mass of other gamers, it suddenly gets a huge sustaining power, speed or other parameters that allow it to catch up with others and become a competitive rival again.
In more advanced games, the competitiveness of non-player characters, or bots, can be achieved through dynamic game balancing, which can be considered fairer, although still a technical fraud, since AI players still gain advantages, even though they follow the rules of the virtual world.
AI that really enhances the gameplay should collect data about every single player and process it into comprehensive information. In other words, for more involving and intriguing game artificial intelligence should understand how the gamer thinks.
In future more intelligent NPCs will be able to interact with gamer's personal style more flexible, giving a beginner the opportunity to gain experience or turn on challenging mode for skilled players to keep bullies in their place.
Enhanced approach to AR games
AR is currently an audiovisual medium, so every user should be prepared to game design, conversational interfaces and used to camera аttached to one's head. Nevertheless, TESLASUIT team believes that AR games experience can be noticeably improved. Times, when AR environment will be managed with contact lenses, are yet to come in a couple of decades. For the time being there is a 

technological solution that is

 sophisticated, but simpler to carry out. And that's smart clothing. Here are innovations which it can contribute to AR games.
Biometrics in aid of artificial intelligence
As it was said above, artificial intelligence should get the output data to adapt gameplay to the gamer. AI still vaguely aware of how the human feels during the gaming process. And this is exactly the thing around which AI development in gaming should be generated to increase customer satisfaction.
Multisensory smart clothing is able to analyze data of disparate data types and relate them to each other. That is, the more parameters are read, the more AI is to up to speed on.
Compression under chest sensor provides electrocardiogram (ECG) technology to monitor heart rate activity. Depending on the data AI is able to accelerate or slow down the gameplay to provide a more exciting scenario or to give a player an opportunity to get one's breath.
Electromyography sensors that conform to the contours of the body with a real-time detailed reading of the muscle activity. AI understands which muscles are working hard and which ones are coasting, as well as how the heart rate and breathing are doing.
Thermocouples monitor the temperature throughout the gaming process and will send out signals when climate control system should be turned on. Climate control system provides the gamer with more realistic immersive sensations, associated with temperature and thermosetting selected by the user and content provider.
Rapid temperature changes can be made via cooling and heating elements. It also allows the gamer to cool down the body, e. g., during intensive gaming sessions.
A GPS sensor allows tracking motion either recorded, broadcast live or both.
The game environment is becoming more complex on the basis of biometric data supported by AI.
Motion capture
In contrast to virtual reality, in augmented reality, it is impossible to track human movements. The most obvious solution that comes to mind is full body smart clothing with motion capture system. It can become a progressive method to propel AR gaming to the next level.
Motion capture, or mo-cap, is a process of digital recording of how people or objects move. It is also may be called performance capture if it applies to designing more sophisticated patterns, such as finger movements or facial expressions. The actions are recorded and this data are used to create a 3D digital model. The movements are scanned numerous times per second and are transmitted to the digital environment. In the issue, the human's movements are reproduced in real time. Detailed info about the types of mocap is in the article "Motion capture: what is it?".
High precision motion capture allows monitoring of the hands and entire body. Understanding body language, mocap system transmit the data into the display with virtual objects. Thereby, limited viewing angle does not interfere with the manipulation of virtual objects.
Besides, outside tracking noticeably improves multiplayer mode: a player can see the movements of another gamer in AR and respond to changing situations more quickly.
As for the game characters, they are created with motion capture or with manual CG work. The latter is too time-consuming. Motion capture will progress thanks to AI instruments, such as self-teaching AI, learning by demonstration, and phase-functioned neural networks.
Motion capture requires recording a huge amount of data on movements which can repeat again and again.
Such innovative systems like phase-functioned neural networks utilize machine learning to put together an enormous library of stored movements and superimpose them on new characters.
Such technology enables realistic animation in AR games with high speed of creating realistic characters.
Haptic feedback
In virtual reality tactile feedback is extremely momentous, as a user acts in an artificially created environment. That's why the more senses are included in perception process, the more information a human can get from the surroundings.
In augmented reality people can anyhow interact with what is happening in reality around. And what to do with virtual objects? Until now, in most cases, players manipulate them through the screen of the device. Such a method does give sketchy details. The need to be both "here" and "there" simultaneously makes augmented reality environment not very convenient to interact. Haptic feedback is just the thing that reduces this gap. Touching things augments sight and hearing and make AR with virtual object and "real" reality into one. AR gaming can move to a new level due to haptic feedback. Read more about haptics and basic principle how it works.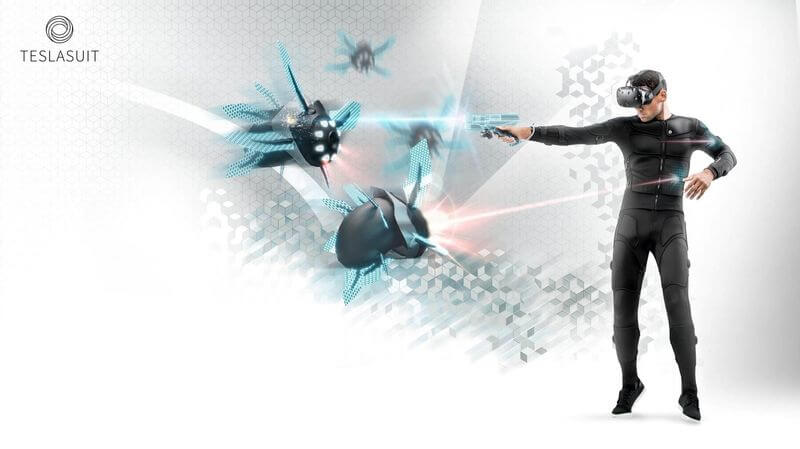 It is difficult to imagine that smart garments with all bells and whistles will be soon in high demand by gamers and become a mass phenomenon. None the less, smart clothing with haptic, mocap and AI taking feedback from biometrics is a quite complicated system for really advanced AR games. However, when smart clothing and AR devices develop strong enough, the former will become extremely trendsetting. A game will be able to adapt to the player's reaction, effectively improving the player user experience.