TESLASUIT team received Future Unicorn Award at Masters of Digital in Brussels on 21 February.
"As you may know, national trade associations nominate a single project to represent their respective countries. TESLASUIT is proud to be nominated by TechUK to represent the United Kingdon. Future Unicorn Award is a great honor for all our team of hardware and software developers, product managers and industrial designers, doctors and AR/VR experts, and very dedicated contributors from other important business functions. This award is a significant reassurance to TESLASUIT that we are moving in the right future technologies direction", said Sergei Nossoff, Chief Executive Officer (CEO).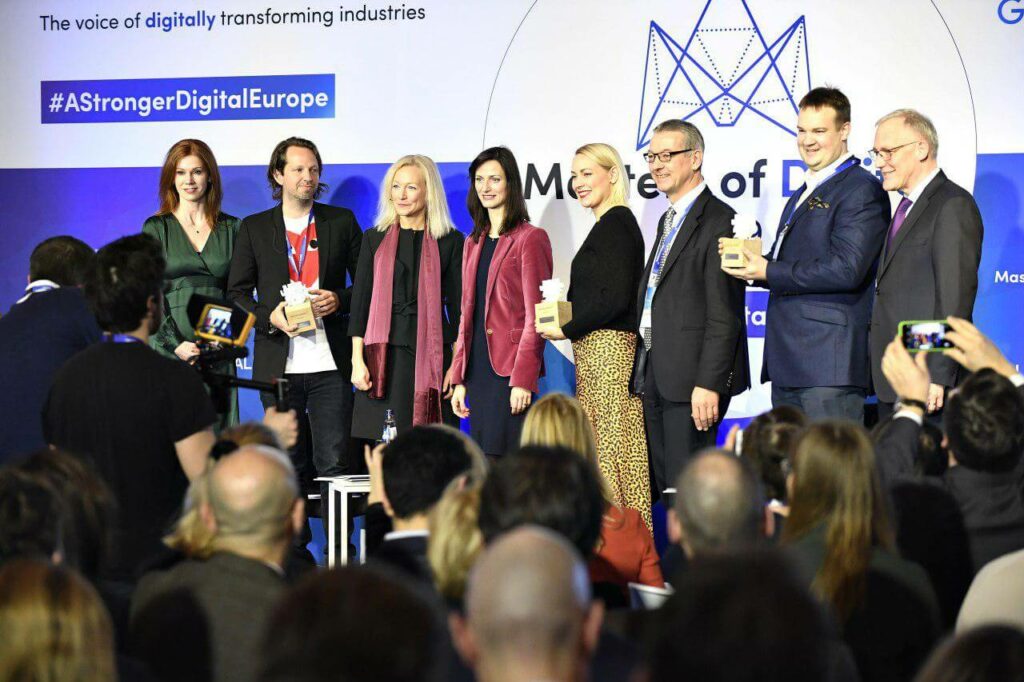 TESLASUIT is the world's first full-body haptic suit that makes the experience in virtual and augmented reality more realistic and effective through the synergy of systems: haptics, motion capture, and biometry. It is used in virtual and augmented reality industry as an interface between human and virtuality.
The integrated complex of haptics, motion capture, and biometry delivers improved human performance with TESLASUIT. TESLASUIT's haptic technology allows to transmit touch: it is actually an additional channel of communication and a new way of making VR experience deeper, more immersive and realistic. Electrostimulation based haptics increases immersion, stimulates neural activity, fosters muscle memory, thus improving learning.
At present, TESLASUIT is intended for integration into a diverse range of enterprise applications and training solutions. In the future, TESLASUIT will be widely used in games and entertainment, fitness and sports, wellness and healthcare.
"We are currently focusing on working with corporate clients in the b2b segment to use TESLASUIT for VR training in various industries. We offer solutions for mining and processing, high-tech construction and engineering, training for firefighters and rescuers and other industrial applications. We are constantly updating and improving the TESLASUIT product. In the future, TESLASUIT will have most broad applications in medicine and rehabilitation, sports and fitness, games and entertainment," said Dimitri Mikhalchuk, Chief Revenue Officer (CRO) at TESLASUIT.
About the award
The Pan-European Future Unicorn Award aims to highlight innovative SMEs that have the potential to become Europe's next unicorns. The award is compiled by asking all the national trade associations affiliated with DIGITALEUROPE to nominate a single SME from their country. So, DIGITALEUROPE' strong network of 40 national trade associations provides a unique opportunity to get results in a truly pan-European selection of incredible digital companies from all sectors.
About TESLASUIT
TESLASUIT was first officially unveiled at the Consumer Electronics Show (CES) in Las Vegas in January 2018 where TESLASUIT was highlighted as one of the most interesting innovations presented. Authoritative high-tech media outlet Tech Crunch also considered TESLASUIT the future of full-body haptic technology. This year, TESLASUIT has been named a CES 2019 Innovation Awards Honoree in Virtual and Augmented Reality.