As smart clothing market is two-sided one, there are two groups of barriers to adoption of smart garments. On the one hand, companies launch products that give personal data to the wearer, on the other hand, gather and analyze big data that perform commercial value. Therefore, factors, slowing smart clothing market growth, exist both on the side of companies and on the side of consumers.
Let's start with problems that customers face with.
Low awareness of smart garments
As GMI APAC Wearable Technology Survey shows, smart clothing is not very popular in comparison with other wearables. Only 20% of respondents said that they are aware of smart clothing. Nevertheless, the forecasts say that popularity of smart clothing will rise. In particular, according to IDC Worldwide Quarterly Wearable Device Tracker, e-textiles market will have great capacity very likely, especially seeing 77% compound annual growth till 2021.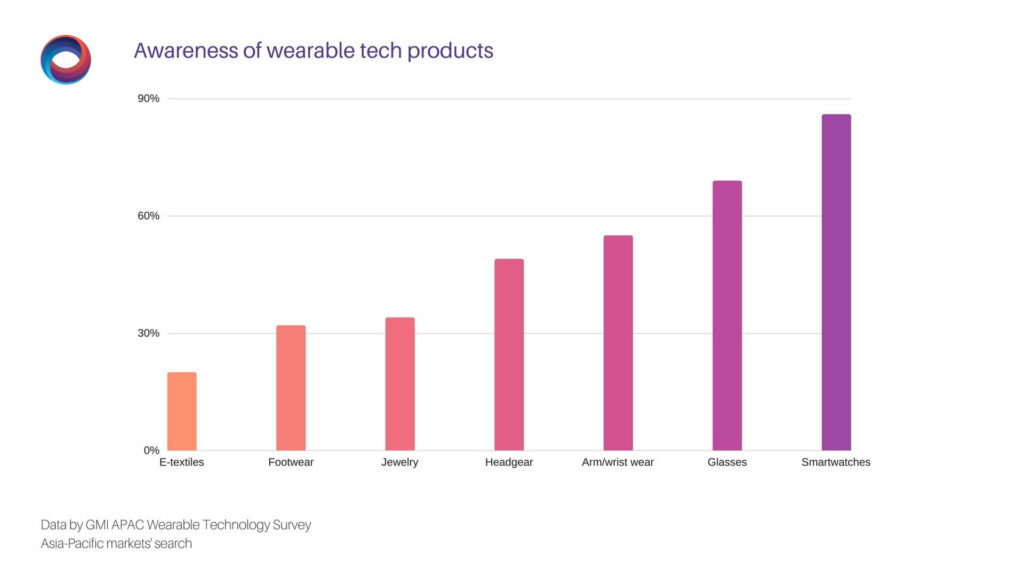 Consumer worries
Multiple researches show that many consumers are cautious about purchasing smart garments. There are some reasons to this.
1. Price
In the poll of Lightspeed GMI, about 15 % of end-users claim that wearable garments are too expensive to buy. Many of respondents are ready to purchase a smart garment if prices decrease.
2. Uselessness
According to Nielsen, about 50 % of potential consumers are not sure that will wear smart garments on regular basis. Taking into account the experience of others wearables' using, it is possible to assume that smart clothing is the same story.
In particular, according to Gartner, abandonment rate of smartwatches is 29% and 30% for fitness trackers. Such high rates are associated with getting bored of devices or they break. Uselessness is usually connected with the next consumer worry, lack of value.
3. Lack of value
In conformity with Nielsen's Connected Life Report, more than 80 % of respondents said that functionality is the most important factor that influences on making a purchase. Slightly less than 80 % estimated comfort as a significant reason. The complete list of attributes that are mostly important for smart garments wearers is the following:
functionality;

comfort;

accuracy of data;

battery duration;

endurance.
4. Short-term durability / unreliability
A long period of use is a significant factor in the purchase of smart clothing since it is equipped with electronics that must be durable while the fabric should be elastic. One more requirement to a smart garment is the ability to wash with sensors.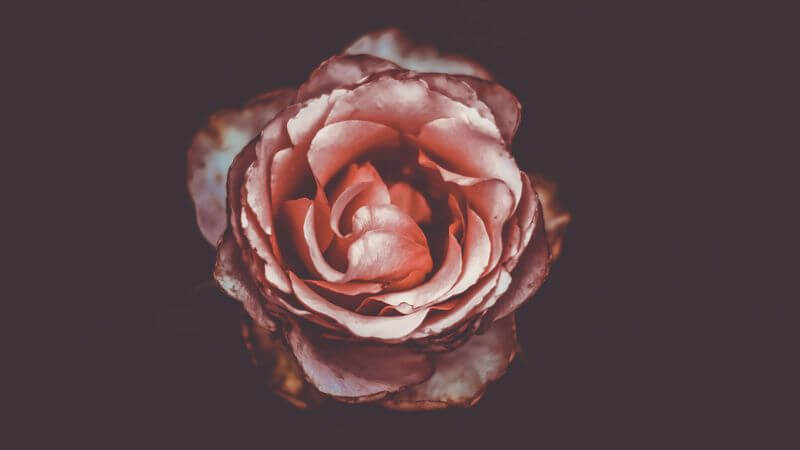 5. Personal security threat
Security of data that wearables provide remains topical. Medicine, military, and sport are the main areas that smart clothing is applicable to. Here data plays a crucial role not only for the other party, e. g. doctor, military leadership, team or coach, but also for the manufacturer of smart garments.
Sensors are embedded in smart clothing. The smart garments that track some healthy indicators, such as physical activity, blood glucose level, sleeping habits, are not protected by Health Insurance Portability and Accountability Act. It means that such data may be passed to third parties.
6. Not stylish enough
As Nielsen reported, approximately 53 % of ultimate customers consider smart clothing lacks style. Some garments still remain bulky and looks too technologically and not fashionable.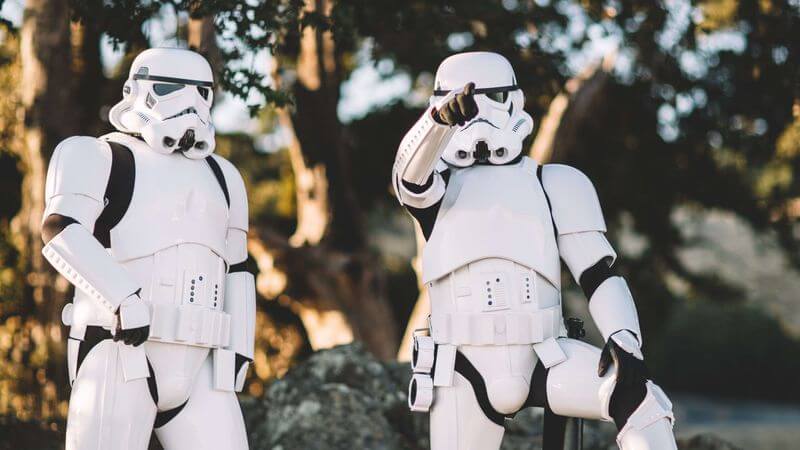 Let's move on to the following group of factors that are not directly related to ultimate customers. For the most part, this is due to the slow adoption of big data.
Technical challenges
1. Great volume of data
The volume of data grows almost in geometric progression in connection with the appearance of a great number of applications, sensing elements, and IoT. Sometimes some data are even difficult to classify.
2. Complexity of data analysis
To transform data to information it's necessary to use methodologies and systems that can provide integrity, accuracy, and reliability of info. These characteristics are especially important for the sphere of safety and health.
3. Variety of data
Sometimes data are even difficult to classify. The first reason is numerous types of sensors that collect different kinds of data. One more reason is uneven nature of data. It can be received through different time intervals or with interference. In sum, output information may be unreliable.
As a result, heterogeneous data need additional instruments and time to divide or integrate, compare and learn.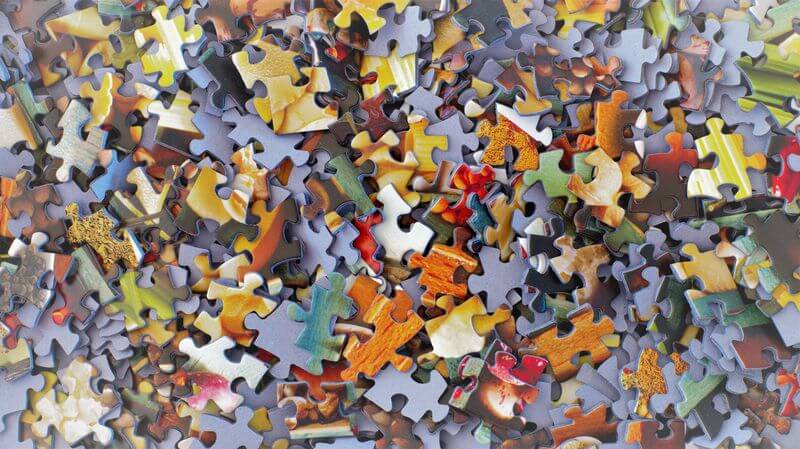 4. Data processing speed
The data is generated at a tremendous rate. For adequate data processing, appropriate tools are required to process them close to real time mode.
5. Lack of universal standards
In big data industry the majority of companies use patented data formats. The lack of standardization makes the transferring of data sets difficult. The challenge is to choose the single open format to receive data and сarry out their primary analysis.
6. Intricacy of securing big data
It's quite difficult to ensure security not only of raw data but also processed information. Smart clothing, as well as wearables in general, is the goal of data brokers.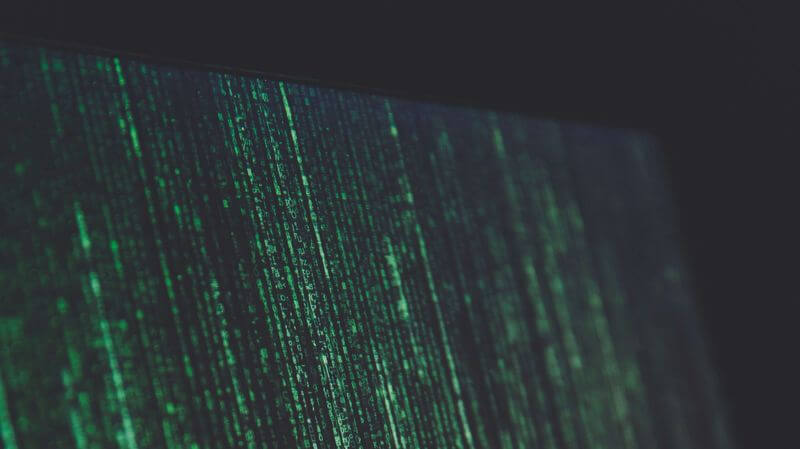 7. Necessity to prolongate battery life
The longer smart garment's battery life, the more statistics it can aggregate. Nevertheless, energy is needed for data transmission. That's why the balance between saving battery power and data transfer should be found.
One possible decision is filtrating data and transmit only the necessary one, but then some of the data are lost.
Success factors on smart clothing market
Difficulties for smart clothing market may vary depending on its submarket, for example, military sector or medicine, but there are common steps that startups and mature companies can follow to be prosperous.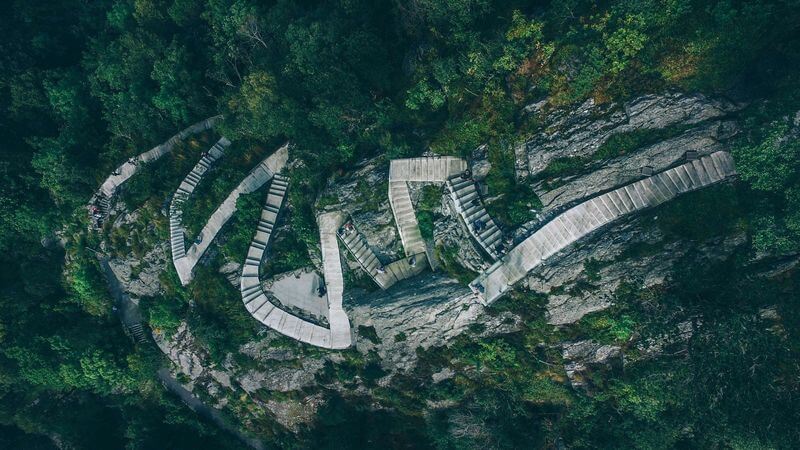 1. Build partnerships with producers of sensors
This is one of the vital factors of market сompetitiveness. Sensors are main components of smart clothing. Their properties, such as washability, an accuracy of reading data, diminutiveness may be fundamental cause that influences the decision to purchase.
2. Build partnerships with design studios
One day there will be no difference between just clothing and smart clothing. Maybe even the term smart clothing will disappear, as all the clothing will be embedded with sensors and manufactured of smart textile.
Nevertheless, at present some smart clothing products do not look very attractive. They are too volumetric or technology-savvy. Every potential owner of garments wants to look stylish. Ideally, smart clothing should not be associated with electronics, but just with the apparel. This is extremely important for products which target audience is women.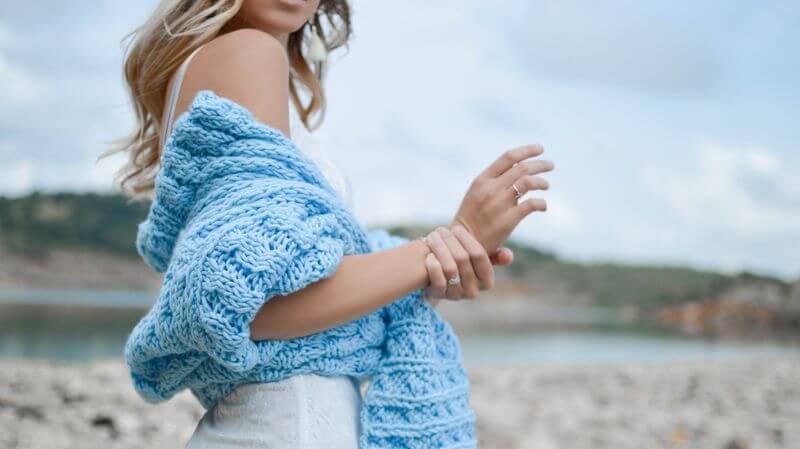 3. Build partnerships with vendors of software and hardware
Real-time processing of big data that smart clothing collect is a quite sophisticated goal. It's worth learning from large companies with well-established similar processes.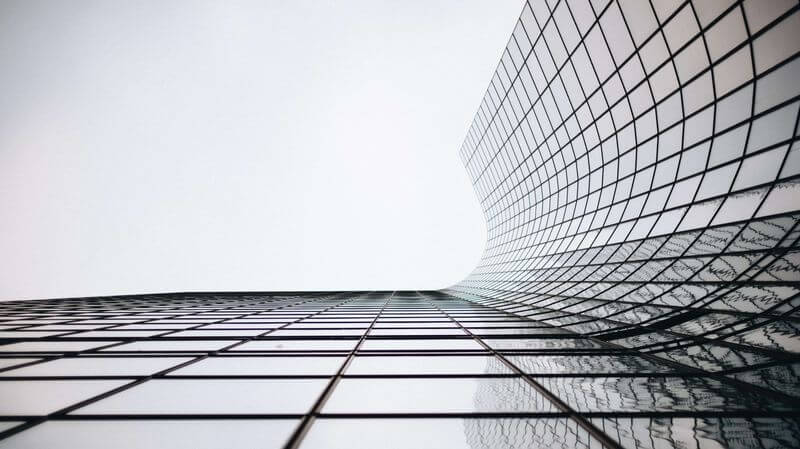 4. Applying open­ source technologies which have already implemented many of the advanced software technologies using machine learning and analytics in real time
Open­ source technologies can save a lot of time and money in the long run. In the end, there is no need to spend resources on research how to meet some of new challenges and to borrow a ready-made solution.
5. Employ specialists with deep understanding and developed skills in mathematics, analysis and machine learning
Such qualified specialists are necessary to develop the product, to create a product for specific markets and to enter them.
6. Elaborate use cases at early stages of product development
Naturally, it is worth choosing areas with low-level entry threshold to the market. Such domains as medicine, military, professional sport have very strict requirements concerning security, privacy, and legal aspects.
What should be the ultimate smart clothing product?
1. Invisible sensors embedded
Sensors should be miniaturized not to overweight smart clothing design. Customers want to wear fashionable light garments that confirm the high status of the owner. The potential wearer is scared to look like a robot.
Building in pretty miniature sensors is already possible now. Perhaps, it will cause higher prices for the final product. Despite the still elevated price for smart clothing, this is better than if no one purchases it. In any case, the manufacturer will have to balance between competitive price and sensors' quality.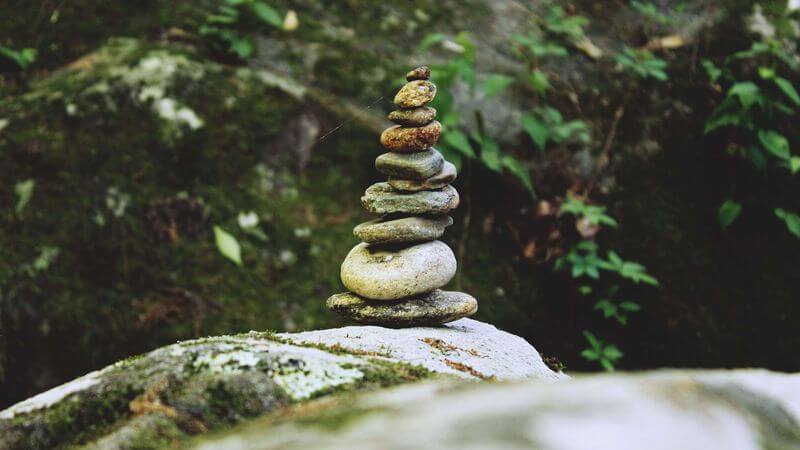 2. Efficient
Reliability, durability, washability, long battery life are basic parameters that the customer deliberates before purchasing. Strange and yet very true that most owners of smart clothing, and wearables in general, grumble precisely at these characteristics. Just now usage product cycle of wearable is too short. Garments are broken, they become out of fashion or just annoy the owners.
A manufacturer should look ahead and pre-estimate customers' needs, and, most importantly, remember that efficiency is a foremost factor which affects a purchasing decision.
3. Accurate
Smart clothing generally collects quite accurate data for it fits flush with the body. At the same time, the number of sensors and collected data is constantly increasing. So, accuracy remains cornerstone parameter of smart clothing.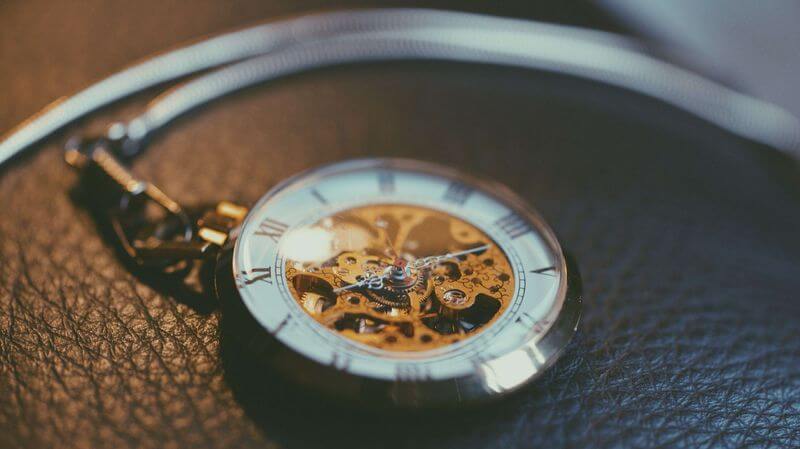 4. Permissions-based
It is notorious that collecting data from smart clothing are compiled into a database and analyzed. Practically, smart clothing is a new source of big data. No diggity that it performs commercial value.
Moreover, smart clothing, like any other wearables, are becoming advertising mechanism.
For these two reasons, it is so much desirable (eligible) to ask the wearers for permission of using the info or to show ads.
5. Multisensory
The only sensor is already not enough. Multisensory garments are able to analyze data of disparate data types and relate them to each other. Especially it is important in the medical field, when based on current data of health state, one can predict the well-being of the wearer in the future.
6. Intelligent
Smart clothing collects a huge amount of data. But the law of soaring demands soon will prove that the consumer is not satisfied with it staff. How about smart clothing will teach one how to dance or to play golf? Motion capture technology enables it.
Motion capture system tracks every move and displays it in 3D. Herewith, a digital representation (avatar) of the wearer is created, allowing a further degree of personalization. Broadcasting live training data from smart suit lets athletes and coaches monitor condition and fitness levels. Such technology offers feedback on how one can perform more like the pros.
7. Integrated with IoE
One more necessary attribute of competitive smart clothing is managing environments.
Smart clothing through the sensors embedded with personal data can unlock the door while you carry heavy furniture or shopping. When your temperature is rising smart clothing with the sensor on the core body signalizes about it and reduces the temperature connecting with the conditioner.
It was a brief overview of smart clothing market challenges.
Previously, TESLASUIT marketing team has prepared the content about a classification of smart clothing and its market overview. This is the third part of this series of articles and it concerns challenges for the market and what to do to stay the course as a player.
Follow our blog to learn more about smart clothing, VR, and related technologies.
If you want to ask any specific details, please, feel free to contact us or comment below.