This is the second post in series of articles about haptic feedback. This section puts emphasis on the history of haptic technology. Due to a large volume of available info on this topic, we'll concentrate on the history of haptic feedback in video game industry.
We have recently written about the typology of haptic feedback technology. Follow our blog to learn more about the TESLASUIT haptic features.
Haptic technology outbreak
In the 1970s arcade game manufacturers began to think how to level up immersion of existing game controllers. In 1976, Fonz (previous title Moto-Cross) from Sega was the first arcade game to feature vibrotactile feedback. It allowed each player to feel the rumble of a motorcycle when it crashed into another player's bike on the screen. This feature was pleasant to users, so other production companies started developing the same effects.
In 1983 racing arcade video game TX-1 was developed by Tatsumi. The game had 3 screens, X/Y-directional yoke, and 1 pedal and allowed players to feel the rumble of a car. It was the first use of vibrotactile feedback that enhanced the experience of a driving simulator.
In 1989, Williams Electronics unveiled Earthshaker! (concepted and designed by Pat Lawlor). It was the first pinball machine with the function of haptic feedback through vibrations.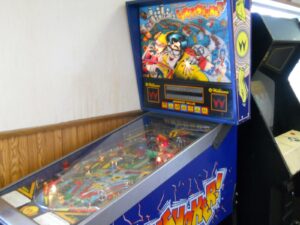 Console manufacturers took notice of vibrotactile feedback technology and started to include it in their mass market systems in the 1990s.
In 1997, N64 Rumble Pak, unveiled by Nintendo, featured vibrotactile feedback. The same year, the Sidewinder Force Feedback Pro controller for PC games was revealed by Microsoft.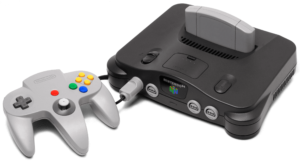 Later in the same year, Sony released the DualShock controller for the PlayStation. Sega Dreamcast also had two options for enhancing games with haptic feedback—the Performance Tremor Pack and Sega Jump Pack by 1999. These controllers used eccentric rotating mass motors with a simple control circuit.
Interactor Vest is worth extra mentioning. It was launched in 1994 by Aura Systems. IV – a wearable force-feedback device that can monitor an audio signal and then convert it into vibrations through electromagnetic actuator technology patented by Aura, so the wearer can feel a punch or a kick while playing game. Aura sold a bit more than 400 000 units with a price tag of $99.

Interest in these technologies has weakened over approximately a decade.
Haptic technology revival stage
Over the next decade (2007 – 2017) situation started to change.
The ForceWear Vest is a haptic suit that was unveiled at the Game Developers Conference in San Francisco in March 2007. It was rebranded into 3RD Space Vest and was released in November 2007 by TNGames. Unlike previous force feedback accessories, Space Vest is directional, so that action taking place outside the players' field of view can also be felt. Due to advanced Game Driver Software vest works with almost 50 gaming titles, including Call of Duty, Half-Life 2, Quake 4, Unreal Tournament 3, F.E.A.R., Medal of Honour: Airborne and Doom 3.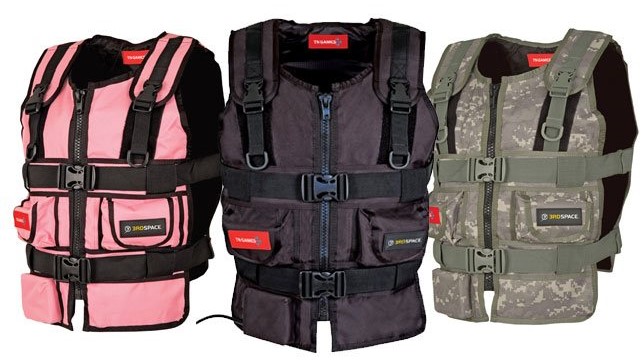 In 2010 Saurabh Palan (Haptics Lab, University of Pennsylvania) developed Tactile Gaming Vest. It can simulate gunshots, slashing and blood flow sensations to increase the immersiveness of first- and third-person shooter games. Other sensations, such as body blows, punch/kick and surrounding environment (temperature, impacts) were also developed.
«This kind of device could be helpful for training military teams, in addition, making video gaming more immersive", – Palan said.
Numerous devices (vests, full body suits) were released or announced in 2013-2017. Most of them use a vibrotactile type of haptic feedback. Developer programs also have been announced for early adopters and VR studios. A couple of these companies attracted funding through Kickstarter. At the moment all of them have working prototypes (development kits mostly) or have already begun to sell their products.
That's a brief history of haptic technology in VR and video game industry.
Haptics topic will be continued by tactile feedback technological solution TESLASUIT and explanation why VR can't be full-fledged without haptic.
If you want to ask any specific details, please, feel free to contact us or comment below.